OGDEN Elizabeth
Posted: March 10th, 2015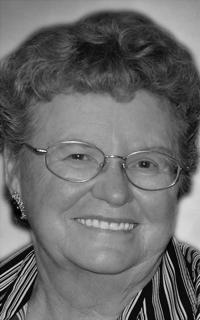 September 1, 1933 — Taber, AB
March 3, 2015 — Calgary, AB
The sweetest woman we ever knew, Betty Ogden passed away on Tuesday March 3, 2015 at the age of 81. Betty will be reunited with Gordon her husband of 64 years who passed away just a short ten weeks ago. Betty will be greatly missed by her seven children Valerie Stevenson (Craig), Veronica Clay (John), Janie Walton (Greg), Connie Adams (Gary), Barbara Blumell (John— deceased), Ramona Price (Richard) and Donald Ogden; 26 grandchildren and 53 great-grandchildren. Betty was born in Taber AB, to Arthur and Evelyn Kemper. While still in her childhood Betty experienced the loss of her father and adored younger brother, Donald. Betty was also predeceased by her mother Evelyn and step father Lyle Danforth. Betty married Gordon February 12, 1951 and devoted her life to her husband and family. Betty was the quiet nurturer and backbone of the family. Nothing was more important to her than being a good wife and mother and she was cherished by her family. Betty is adored for her kind and caring nature and unconditional love. Betty had a way of making everyone feel welcome in her home and she loved it when family and friends stopped by for a visit, which they often did. It has been an honor and privilege for her children to continuously be by Mom's side caring for her the past three months. Betty is also survived by her siblings June Hartley (Wayne), Roy Danforth (Karen) and Dan King (Marlene). Those wishing to pay their respects may do so at McInnis & Holloway's Crowfoot Chapel (82 Crowfoot Circle NW) Sunday, March 8 from 6:00 to 8:00 pm. Funeral Service will be held at The Church of Jesus Christ of Latter-day Saints — Bow Valley Chapel (2526 — 24 Ave NW, Calgary) on Monday, March 9 at 1:00pm. A Graveside Service to follow at Eden Brook Memorial Gardens Cemetery.