ECCLESTON
Posted: January 21st, 2014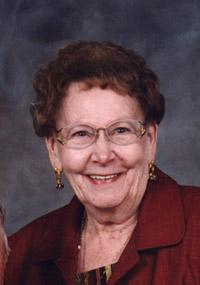 Dorothy Elaine Anderson, or Dot as some of you knew her, was the eleventh and youngest child born to Henry and Margaret Anderson on March 18, 1928 in Maple Creek.  
Henry and Margaret had moved from Bobcaygeon, Ontario to the Richmound area in the 1920s. Dorothy was raised on the farm eight miles north of Richmound and attended school there. After completing her Grade 12 in Richmound she attended Normal School in Saskatoon to become a school teacher.
Her first teaching job brought her to Petain School southeast of Piapot. She boarded with Charlie and Jean Ziffle while teaching at Petain from 1948 to 1952. She loved those teaching years and often spoke of her lesson planning and challenges at Petain. During that period she met Robert (Bob) Eccleston, who lived down the road east of Ziffles. Bob and Dorothy were married on July 12, 1952 in this St. Andrews Anglican Church.
Their first home was a house located east of Bob's parents house where Cameron and Deb Eccleston now live. Their son Cameron was born in 1953 while they were living there. In 1954 they moved the house from that location to its present site on Skull Creek, just north of the current Skull Creek Rink. Bob and Dorothy did all of the landscaping, planted trees and flowerbeds, creating a beautiful yard that everyone admired.
In 1956 a daughter Joanne was born, it was a busy household with a three-year-old and a newborn. A year later a young girl from the Isle of Mann, Greeba Creer came to teach at Manville School and she boarded with Bob and Dorothy. Greeba, who married a young bachelor just up the road, Ralph Drever, became a very good friend of Dorothy's.
Dorothy was involved in everything, whether it was putting on an old- fashioned country school dance, homemakers club, school Christmas concerts, making costumes, playing piano or singing. She loved curling at the Skull Creek Rink.
In 1964 another daughter Trina was born, that same year Greeba had a son Glyn. Trina and Glyn were younger than most of the pack of kids that were at Skull Creek. They were good friends and it was not uncommon to see the two of them playing at the bridge which was half way between Ralph's and Bob's places.
With all the young families around Skull Creek the community got even busier. The rink started having an annual bonspiel and Dorothy was a big part of that. She was a fantastic cook and everyone would look forward to her pies at the booth. We had skating carnivals, the 4-H club started up again, there was a lot going on.
Dorothy still had time for her gardening and flowerbeds, especially gladiolas. She canned a lot of food as no one went to town as often then. Dorothy was always willing to share with neighbours, whether it was a  pail of raspberries or baking. She was a fantastic hostess and always made you feel welcome.
She was an avid sewer, she would sew matching dresses or pajamas for Jo and Trina plus nieces for Christmas concerts. Even some dolls got matching pajamas. Her tablecloths with the crocheted edging are still in use and were a popular gift of hers.
As the children got older they graduated from school and moved away. However as sometimes happens they have a tendency to move back closer to home. That happened with Bob and Dorothy.
Cameron married Deb Couzens from Moose Jaw and they moved back to Eric Eccleston's place in 1979 and Joanne married Larry Peterson from Tompkins and they moved back to Stanley Birchall's place in 1981. Trina married Craig Bellavance from Medicine Hat, they currently live in Sylvan Lake, Alberta.
The women in the area formed the Nomads Club of which Dorothy was a charter member. She worked on the Piapot history book and volunteered to help with everything going on in the community.
Bob and Dorothy took a little time to do a bit of travelling to Alaska on one occasion and Hawaii another time. There were trips to Bobcaygeon and Brantford, Ontario to visit Dorothy's five brothers and one sister.
The new generation started having children. Cameron and Deb had Andrea, Rob and Jim. Joanne and Larry had Torban and Whitney. Trina and Craig had Cole, Jace and Chloe. With all the grandchildren Dorothy was busy hand knitting beautiful sweaters. Bob would sometimes have to help her out with the knitting if there was a deadline. She enjoyed the grandchildren staying over and often their friends would also stay.
There were lots of anniversaries happening and Dorothy was always willing to participate in a mock wedding or a skit to help celebrate. They started a women's curling team that travelled to surrounding towns. Greeba Drever was the skip, Gladys Birchall was the third, Dorothy was the second and my mother Ruth Wagner was the lead. They had a lot of fun. If you were in any of the towns they curled in, if you mentioned you were from Skull Creek people would come out of the crowd to tell you how much fun they had curling against them or just having them at the bonspiel. Rhonda tells me that once they won eight large pillows at Maple Creek and were all laughing about trying to get all four of them, their curling equipment and the pillows stuffed into the car for the trip home.
In 1996, Bob and Dorothy semi- retired to Maple Creek. They bought a house in Chinook Place on the west side of town. Dorothy immersed herself in town life, she joined the choir at the church, helped at the Jasper Centre, went on the Seniors Centre board, organized weekly bingo at the seniors, played cards three to four times weekly, delivered meals on wheels and she especially enjoyed going to Cypress Lodge to play piano and sing for the residents. Bob on the other hand returned to the farm during the week and back to Maple Creek every weekend. After a few years he started spending more time in town. Bob and Dorothy enjoyed their neighbours on Chinook Place, the coffee stops, the suppers, the happy hours, etc. However they still participated in whatever was going on at Skull Creek and often hosted occasions at their house that everyone from Skull Creek was invited.
In 2006, early stages of Alzheimer's with Dorothy started appearing. Bob and Dorothy decided to sell the house and move into Creekside Estates, a senior's condo complex. They purchased one of the last condos available at that time and Bob still lives there today. The condo was a small community of its own. Bob and Dorothy always had an open-door policy where you could just knock and enter for a visit or ask a favor. They played cards in the common room every Tuesday night and celebrated everyone's birthday there too. Any excuse for getting together, visiting and playing cards. Dorothy always was truly delighted to have any neighbours visit. She especially liked it when grandchildren visited and was always interested in what they were doing or trips they had to Europe, Australia, China, Mexico or wherever.
In 2012, Dorothy's Alzheimer's grew worse and she moved into the Cypress Lodge. She always said that when it was her time she would enjoy going there because the girls took such good care of everyone. In August 2013, her Alzheimer's took another downturn and her health started to deteriorate. At every turn, Bob, her children and her grandchildren were there to support her. Dorothy passed away peacefully January 9, 2014 in the late afternoon with the sun shining in the window and family by her side.
Dorothy is predeceased by her mother, father, all her brothers and sisters and their spouses, her mother in-law and father-in-law, sisters-in-law and their husbands and one brother-in-law and his wife.
She is survived by her husband of 61 years, Bob. Their son Cameron, his wife Deb and daughter Andrea, son Rob and his wife Erin and son Jim. Their daughter Joanne and her husband Larry, son Torban and daughter Whitney. Their daughter Trina, her husband Craig, son Cole, son Jace and daughter Chloe. A brother-in-law Eric Eccleston and his wife Kaye. Nephews and nieces from the Jim and Eileen Bennetto family, Cindy, Ray, Mary Ann, Vivian and Tim. From the Lyle and Phyllis Wagner family Nola and Bob. From the Craig family nephew Bill Craig.
John and Rhonda Wagner's daughter Stacey wrote in Grade 4 about her neighbour Dorothy. Stacey is now in her 30s and has saved this poem. It's called:
My perfect neighbor
She is 60 or 50,
She cooks and she bakes.
She really is quite nifty.
A great friend she makes.
She is alway singing a song,
Even if I'm late.
To her I can do no wrong.
My neighbour is GREAT!
Well, Stacey you are right, Dorothy is great.
The funeral service was held at St. Mary's Anglican Church in Maple Creek, Sask. on Tues., Jan. 14, 2014 at 2 p.m. with Rev. Peter Boote officiating. Interment took place at the Maple Creek Cemetery. Pallbearers were grandchildren of Dorothy: Rob Eccleston, Torban Peterson, Jace Bellavance, Whitney Peterson, Jim Eccleston, Cole Bellavance, Chloe Bellavance, Andrea Eccleston. Honorary pallbearers were all those who shared in Dorothy's life.
Friends who wish to may remember Dorothy with a gift to the Southwest Healthcare Trust c/o Cypress Credit Union.
To email an expression of sympathy you may visit www.gonebutnotforgotten.ca.
Binkley's Funeral Service, Maple Creek and Leader, in charge of arrangements. 306-662-2292