THOMSON Gay
Posted: September 12th, 2012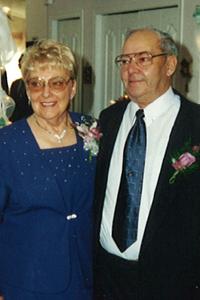 MRS. GAY ESTHER THOMSON (nee Ouellette) passed away at the age of 81 years, beloved wife of the late Mr. Robert (Bob) Thomson. Gay was born in Chiswick, Ontario. She was the 1st child of 2 born to Theodore and Florine Ouellette.
She is survived by her brother Fernand (Ethel) Ouellette and 3 sons Mark (Patricia) Brown and their children Cory (Ellen) Brown and Ashley (David) Peckam, Ted (Julie) Brown and their children Kelsey and Madisen Brown. Kord Percival and her daughter Joy (Patrick) Ackerman and their children Taylor (Arianna) Ackerman and Aurielle Ackerman. She is also survived by three great-grandchildren Isaac and Yasmin Brown and Carter Peckham and one very special cousin "sister" Geraldine Vachon.
She was baptized as one of Jehovah's Witnesses in July 3, 1940.
Gay moved to Lethbridge to be close to her daughter 17 years ago. She helped sew numerous costumes and character skirts for the students at JDF who called her Mrs. Gay. She spent many hours caring for her mother who passed away at 103 years last summer. Mom loved to travel back to Vernon, Edmonton and Red Deer to see her sons, grandchildren and great-grandchildren. Gay and Bob spent the last 11 years travelling and enjoying time with each other. A special thanks to Geraldine for always being there for Gay and Joy. Also thank you to the Lethbridge Regional Hospital, Foothills Hospital and St. Michael's for the wonderful, loving care she received.
MR. ROBERT "BOB" HUNTER THOMSON
Survived by:
Robert and Tammy Thomson of Watson Lake, Yukon Territory. In loving memory of Jeff Thomson his wife Doris Brown and her husband Stan Brown of Lethbridge, AB and their two children Luke and Levi.
Grandchild Shawn and Sabrina Thomson of Vancouver, BC
Great Grandchildren Caleb and Paige Thomson.
Grandchild Mandy and Kent Irving of Calgary, AB
Great Grandchildren Ario, Olivia and Alistair.
Grandchild Sheena Thomson and Brian Craig of Kamloops, BC.
Grandchild Holly Keenan of Edmonton, AB
Bob is also survived by his brother George Thomson of Vancouver, BC.
Bob's ashes will be laid to rest alongside his mother Helen W. Thomson and sister Agnes May at Burnsland Cemetery in Calgary, AB.
Bob was baptized as one of Jehovah's Witnesses on September 15, 1972.
John 11:25 – "I am the resurrection and the life. He who exercises faith in me, even though he dies, will come to life."
A Funeral Service will be held at 11:00am at the Kingdom Hall of Jehovah's Witness, 1510 Stafford Dr North, Lethbridge, with Mr. Gary Dunn officiating, followed by a Reception at Joy's Dance Factory, 243 – 12C Street North, Lethbridge all are welcome. Gay's ashes will be buried in Ontario with her mother at a later date.
Flowers are gratefully declined, memorial donations to be made to the costume fund at JDF in memory of mom or to St. Michael's Health Centre, 1400 – 9 Ave South, Lethbridge, AB T1J 4V5.
Send condolences at www.mbfunerals.com.
Martin Bros. Funeral Chapels Ltd.
610 – 4 Street South
Lethbridge, AB T1J 4P3
Phone: (403)328-2361 Fax: (403)382-3623
Toll Free: 1-800-382-2901
www.mbfunerals.com