WADDLE Harlan
Posted: September 28th, 2012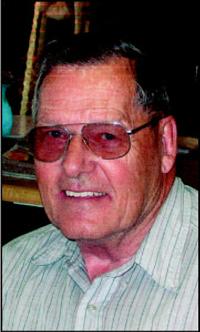 1932 – 2012
Harlan Gordon Waddle, beloved husband of Pat Waddle, passed away in
Lethbridge on Thursday, September 20, 2012 at the age of 79 years.
A private family burial service will be held at the Vauxhall Cemetery prior
to the funeral service on Saturday, September 29, 2012.
The Funeral Service will be held at the Royal Canadian Legion, 217 – 5
Street North, Vauxhall on Saturday, September 29, 2012 at 2:00 P.M.
Condolences may be forwarded by visiting our website at
www.southlandfuneral.com.
Besides Pat, his loving wife of fifty nine years, Harlan is survived by
their four sons Keith Waddle of Magrath; Lane Waddle of Medicine Hat; Lyle
Waddle of Lethbridge; Dean (Connie) Waddle of Scandia. He will be fondly
remembered by his grandchildren Jamie (Martha) Waddle and son Alex; Sheila
(Robert) Stemberger and children Mya, Owen and Adam Harlan; Shawn Higa and
his mother Bev Higa. Harlan is also survived by sister-in-law Myrna Waddle,
aunt Effie Burge and numerous nieces and nephews. Harlan will also be fondly
remembered by the extended Waddle and Broderson families and by Pat's family
Jack Connor, Edith (Austin) Jorgensen, Dorothy (Dale) Rombough, Tom Connor,
Linda Connor and their families.
He was predeceased by his parents Glenn and Marie Waddle; two brothers and
sister-in-law Milton (Jean) Waddle and Ken Waddle; sisters-in-law Jean
Waddle and Isabel Connor; niece Dalene Rombough, nephew Kevin Waddle and
many aunts and uncles.
Harlan was born in Retlaw on December 3, 1932. He married Patricia Connor
on July 24, 1953. In 1961 they moved their family to Taber where Harlan
worked in the Laboratory at the Sugar Factory and in 1975 they moved to
Lethbridge where he was employed with Canbra Foods for twenty years. Harlan
enjoyed his years at Canbra Foods as the agriculture department he oversaw
expanded to include the three prairie provinces, Montana, Idaho and
Washington. He enjoyed the personal contacts, extensive travel and further
education during that time. In 1996 he became manager of Southern Alberta
Research. Shortly after, a severe case of shingles changed the state of his
health completely.
Highlights in Harlan's life included times with his family, both immediate
and extended. He recalled fondly the family reunions they would attend,
special Christmases and the annual fishing trips to Vancouver Island with
old friends over the course of thirty years.
Harlan was a gentle man who loved life. His gentle sense of humour and
thoughtful nature will be dearly missed. Rest in Peace.
Arrangements in care of Southland Funeral Chapel, Taber. Telephone: (403)
223-8778.