PUSTANYK Don
Posted: September 29th, 2012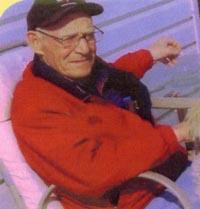 DON PUSTANYK (Donnie) of Didsbury AB., quickly and quietly left our world and entered Gods domain on Sunday September 23, 2012.
He leaves to mourn his passing daughter Tereyl (Frank) of Abbotsford BC., son Ben (Stacey) of Chilliwack BC., 5 grandchildren, 5 great grandchildren and his first wife Margie of Coaldale, AB. 3 brothers and 4 sisters, and his second family in Didsbury.
He was predeceased by his son Jerry, mother and father and sister Carreen.
Don was born in Fairview AB June 13 1937 grew up in Ft. John BC and Turner Valley AB.
Don worked service rigs in his younger years and in 1956 rode one down at Calmar AB. crushing his lower body. This would lead to his many hip replacements years later. It never stopped him from the things he loved, snowmobiling, quading, waterskiing & hunting. He loved the outdoors.
In 1960 he entered into his career of welding, working in shops, gas plants and pipeline work.
Don was a member of the Boilermakers Union Local #146 out of Edmonton and supervised many jobs in Sask. and AB. In 1970 he moved his family to Pincher Creek, AB where he contracted with Shell Waterton Gas Plant. In later years he moved on to inspect and supervise different projects in the oil industry.
Funeral Services will be held Friday October 5, 2012. 12:00 pm at the Didsbury Elk Lodge 1914 20 Street Didsbury AB.
Donations may be made to the Alzheimer's society.