HEAD Alice
Posted: October 3rd, 2012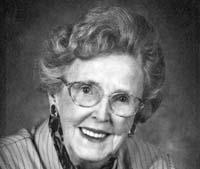 ALICE LEONA HEAD passed away on Monday, October 1st, 2012 at the age of 94 years.
Alice was born, the eldest of four girls, in Medicine Hat, Alberta on February 10th, 1918. She grew up on a farm in the Rolling Green area, north-west of Taber, Alberta and attended Rolling Green School, where she completed grade twelve. On February 14, 1939, Alice married A.J. (Joe) Head in St. Augustine's Roman Catholic Church in Taber. Alice and Joe lived for a short while in Picture Butte, Alberta, where Joe was a partner in "Hyde and Head Hardware". They moved to Vauxhall, Alberta, where Joe went into a partnership in "Red Head Gas", a small service station. Later, Alice and Joe started "Head Motors", where they sold John Deere farm equipment and Chrysler cars for many years. Alice and Joe had four children: Lawrence, born in 1941, Marie in 1944, Brian in 1948 and Patrick in 1954. The family moved to Calgary in 1962, where Alice began work as a bookkeeper for Terrill's Flowers for several years, and then for Beaver Lumber, where she worked for a number of years, retiring in 1983.
Alice was blessed with a beautiful alto-soprano voice which she shared freely, singing at countless weddings and funerals over the years, and she devoted almost 50 years to the music ministry at Corpus Christi Roman Catholic Church in Calgary. The magnificence of their parish choir was always one of her greatest sources of pride. Alice was also a Eucharistic Minister within her parish and delivered Holy Communion to the sick and elderly for many years. She was honored by her choir and parish on her 90th birthday, where she was recognized for her many years of service to her church. Alice was also a Charter Member of the Catholic Woman's League.
Alice was a devoted mother and wife. She and Joe were well known for their hospitality, and their warm and welcoming home was regularly full of family and friends, enjoying Alice's wonderful cooking and baking, and Joe's many stories. There was always room at the supper table for guests and always a warm bed for visitors, and over the years, many were welcomed to their home, without question. Often, evenings were spent around the piano where Alice played and sang requests. Alice was also well known for her beautiful flower gardens, which grew in profusion in her many flower beds and the house was often beautifully decorated with cut flowers. Alice also enjoyed several artistic pastimes, including ceramics and paper tolling.
Alice is survived by her son, Lawrence (Joyce) of Calgary, daughter Marie (Harold) of Cochrane, and son Patrick (Melanie) of Fairview, Alberta.
Alice was predeceased by her parents Eddie and Anne Hemple; sisters Adele, Noreen and Patricia; husband, Joe; son, Brian and daughter-in-law Terry.
Her warm and loving manner will be greatly missed by her many friends and family.
Relatives and friends are invited to Prayers at McINNIS & HOLLOWAY'S, Chapel of the Bells (2720 Centre Street North) on Wednesday, October 3, 2012 at 7:00 p.m.
Funeral Mass will be held at Corpus Christi Roman Catholic Church, (404 Northmount Place NW) on Thursday, October 4, 2012 at 10:30 a.m. Condolences may be forwarded through www.mcinnisandholloway.com.
In living memory of Alice Head, a tree will be planted at Big Hill Springs Park Cochrane by McINNIS & HOLLOWAY FUNERAL HOMES, Chapel of the Bells, 2720 CENTRE STREET NORTH, Telephone: 403-276-2296.