WILSON Wayne
Posted: October 5th, 2012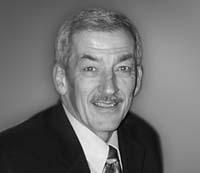 September 5, 1949 – October 2, 2012
Wayne Wilson, beloved husband of Twila Wilson (nee Doenz) of Calgary, passed away on October 2, 2012 at the age of 63 years after a short and courageous battle with cancer.
Wayne was a devoted husband, father, brother and brother-in-law. Wayne was born to Tom and Doris Wilson of Lucky Strike, AB. He spent his school years in Masinasin and Erle Rivers High, Milk River, AB. Wayne wed his high school sweetheart, Twila who he loved and cherished for forty-two years until his last breath. Wayne and Twila moved to Calgary in 1971 where Wayne started his career in the oil and gas industry. Wayne obtained his CGA and MBA degree and was involved in the start up of multiple oil and gas ventures and held various executive positions where he was a respected professional of the Calgary business community. Wayne semi-retired in 2008 and pursued his love of golf and spending time with his family in warm climates swinging the clubs.
Wayne is survived by and was profoundly proud of his sons, Ash and Everett (Crystal); and his wife Twila. He is also survived by his brother Gary (Lori) and several brothers-in-law, sisters-in-law, nieces and nephews. Wayne will be sadly missed by all those whose lives he touched. Wayne was predeceased by his parents, Tom and Doris Wilson.
Funeral Services will be held at McINNIS & HOLLOWAY'S Crowfoot Chapel (82 Crowfoot Circle N.W.), on Sunday, October 7, 2012 at 2:00 p.m. Condolences may be forwarded through www.mcinnisandholloway.com. If friends so desire, memorial tributes may be made directly to the Alberta Cancer Foundation, c/o Tom Baker Cancer Centre, 1331 – 29 Street N.W., Calgary, AB T2N 4N2 Telephone: 1 (866) 412-4222. www.albertacancer.ca/memorial.
In living memory of Wayne Wilson, a tree will be planted Big Hill Springs Park Cochrane by McINNIS & HOLLOWAY FUNERAL HOMES, Crowfoot Chapel, 82 Crowfoot Circle N.W. Telephone: (403) 241-0044.