VAN HAL Johanna
Posted: October 9th, 2012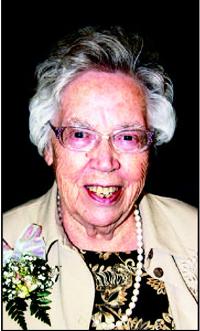 1920 – 2012
Jantje ³Johanna² Van Hal of Taber, passed away after a lengthy illness on Friday, October 5, 2012 at the age of 92 years.
Relatives and friends are invited to meet with the family at the Southland Funeral Chapel, 5006 – 48 Avenue, Taber on Tuesday, October 9, 2012 between 7:00 P.M. and 8:00 P.M.
The Funeral Mass will be celebrated at St. Augustine¹s Catholic Church, 5009 – 48 Avenue, Taber on Wednesday, October 10, 2012 at 2:00 P.M. with Reverend Vincent TuanHa Celebrant. Condolences may be forwarded by visiting our website at www.southlandfuneral.com <http://www.southlandfuneral.com> .
Left to cherish her memory are her children Maria (Tony) Bouw of Lethbridge, Wies Valckx of Calgary, John (Lien) Van Hal of Vauxhall, Barbara (Al) Zandbelt of Okotoks, Johanna Melson of Edmonton, Anna (Larry) Kynoch of Calgary, Andrew (Donna) Van Hal of Vauxhall, Pete Valckx of Victoria, Renus (Rosalind) Van Hal of Scandia, Cor (Sandra) Van Hal of Medicine Hat, Henry (Janice) Van Hall of Scandia, Christine (Richard) Rombough of Taber, Francisca (David) Geremia of Retlaw and Mary Ann Valckx (Ken Cooper) of Lethbridge; forty two grandchildren, fifty one great grandchildren, one great great grandchild and a second on the way. She also is survived by two brothers John Hak of Calgary and Johnny (Dia) Hak of the Netherlands; sister-in-law Verona Hak of France and by numerous family throughout The Netherlands.
She was predeceased by her parents, her husbands, daughters Elzien Case and Suzanna Orr, daughter-in-law Judy Valckx, son-in-law Doug Melson, grandson Bradley Van Hal, great granddaughter Jessica Koopmans, two brothers Henk Hak and Jack Hak and two sisters-in-law Deiny Hak and Lien Hak.
Johanna was born to Stoffer and Elzien Hak on March 29, 1920 in Wagonborgen, Netherlands. With her four brothers, the family of seven moved around often during her early years. Johanna met and married Aloyisius Valckx and soon took their family of two boys and two girls and immigrated to Canada in 1953. While residing in Calgary, they added a fifth child to the family. With the passing of Aloyisius in 1963, she continued life as a single mother.
In May of 1966, Johanna married Hendrikus Van Hal of Vauxhall and added eleven children to her family. Life on the farm kept her busy. She enjoyed spending time gardening and cherished the time spent with her children and many grandchildren that were added to the family. After Hendrikus retired from farming, the remaining family of four moved into the town of Vauxhall in 1977. The passing of her husband in 1982 showed Johanna keeping herself busy with the CWL, bowling, traveling and even getting her drivers licence.
The year 2005 brought her to Taber to reside at the Homestead Manor, making new friends, taking walks through the park, and continuing to enjoy life playing games and spending time with the other residents. She continued to reside in Taber until the time of her passing. Johanna will be sadly missed but fondly remembered and held close in the hearts of her family.
If friends so desire, memorial tributes in Johanna¹s name may be made directly to the Heart and Stroke Foundation of Alberta, Box 2211, Lethbridge, Alberta T1J 4K7.
Arrangements in care of Southland Funeral Chapel, Taber. Telephone: (403) 223-8778.