HARDIE Evelyn
Posted: October 16th, 2012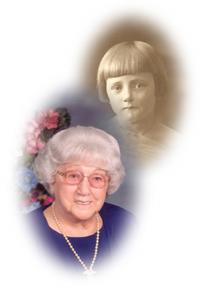 November 6, 1913 – October 9, 2012
Evelyn passed away peacefully in Shaunavon, SK, at the Shaunavon Long Term Care Facility on October 9, 2012. She was 98 years of age. She was the loving wife for fifty-three years of the late William James (Bill) Hardie, who passed away on October 17, 1994.
Evelyn was a caring and devoted wife and mother and a true and generous friend. She will be remembered for her dedication to her family, her constancy of spirit and her fantastic sense of humour.
Surviving Evelyn is her daughter Linda (Ray) Glasrud and their children Garret Glasrud and Haley Glasrud, all of Shaunavon, SK. Evelyn is also survived by her son Ron Hardie (Judy) of Lethbridge, AB and grandchildren Jocelyn Hardie of Victoria, BC, Aaron Hardie (Liz) and their daughter Morgan all of Edmonton, AB, as well as David (Chantal) Screen and their two sons Jack and Conrad, all of Vernon, BC.
Evelyn was born in Vancouver, BC to Margaret and David Drummond where she grew up and attended public school. After graduating from high school Evelyn worked in her father's plumbing shop as his official bookkeeper and general office assistant.
On September 4, 1941 Evelyn and Bill Hardie were married in Vancouver.
Evelyn and her husband, Bill, and their children moved to Lethbridge, AB in 1949 to follow a business opportunity in the agricultural irrigation business. It was there that Evelyn became involved with the Lions Club and spent numerous hours volunteering her time with various projects. In the busy summer months Evelyn worked as a bookkeeper at her husband's business.
Evelyn spent a great deal of her spare time sewing and doing all modes of handiwork. Her creations were absolutely beautiful works of art and done to perfection in a true Evelyn fashion. As a child, Evelyn loved playing sports and in later years she also loved watching sports on television, anything from hockey to tennis to baseball to track and field or even rodeo. Evelyn would become especially enthused while watching a boxing match or most recently cage fighting. She loved it all with great passion. Another passion of Evelyn's was dancing. Most Saturday nights would find Evelyn and Bill getting dressed up and going to their favorite restaurant for a delicious dinner and a few spins around the dance floor.
In order to live closer to her daughter Linda, Evelyn moved to Shaunavon in October of 2010.
By Evelyn's request, there will be cremation with no service being held. Her ashes will be interred beside her beloved husband at Ocean View Burial Park in Burnaby, BC. Binkley's Funeral Service of Shaunavon (www.binkleys.com) was in charge of the arrangements.