VIBERT Wayne
Posted: October 20th, 2012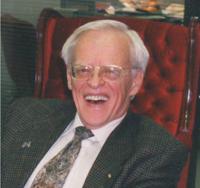 December 5, 1938 – September 29, 2012
Wayne passed away at the University of Alberta Hospital on Sept. 29, 2012 with his wife, family and friends by his side. He was born in Davidson, Sask. the son of Arthur Philip Vibert and Anne Johnson. He attended Craik school in the early grades and after the family moved to the Lethbridge area he attended McNally School, Hamilton and the Lethbridge Collegiate Institute where he graduated in 1957. Wayne graduated from Sir George Williams University in Montreal in 1971 with a Bachelor of Commerce Degree and then attended Harvard Business School to graduate with a Masters in Business Administration in 1973. Wayne was elected Class Secretary of the MBA class and served in that position from 1973 until his passing. He also attained his designations as CMA, CPF, RIA and FCIB.
He had an active and varied career working for the Bank of Montreal in Taber, Calgary and Montreal in the 1960's, Crown Zellerbach in Vancouver in the 1970's . After moving to Edmonton in the 1980's he worked for GSR and other start-up companies as V-P Finance, and later for IGM as a Financial Planner. In his later years he worked as a Management Consultant in Finance and Administration to various companies. He augmented his busy schedule by volunteering with charities and non-profit organizations such as The Summerlea Community Association, West Edmonton Businessmen's Association, The Alpine Club of Canada (Alberta) and the Liberal Party.
Wayne's real passion was the mountains. He hiked and climbed the Lions overlooking Vancouver every year during his years in Vancouver as well as many mountains in the Coastal Range. After moving to Alberta in 1982 he joined the Alpine Club and climbed approximately 30 peaks in British Columbia and Alberta, some more than once. His articles on various climbs and his experiences have been published in "The Breeze", the Alpine Club newsletter. He visited Nepal twice and spent 6 weeks there each time hiking to Everest Base Camp in 2000 and the Anapurna Curcuit in 2002, as well as a few mountains in between. He met with and assisted other passionate climbers/hikers with information on Nepal to help them plan their trips.
Wayne was a voracious reader of history and archaeology and loved to travel. In 2009 travel included cruising the Mediterranean – Rome, Naples, Venice, Dubrovnik, Barcelona, Monaco, and in 2011 the cruise route from Athens to Istanbul, with all the archaeological stops along the way.
Wayne leaves to mourn his loving wife of 49 years, Pat, brothers Phil (Marg) and Bob (Darlene), sister Shirley McNeill (Bryan), Aunt Mary Vibert(Lloyd) and cousins: Gary and Kevin Vibert in California, Lynn and Janice Newlove, Maureen Steen Akitt(Vic), Darryl Steen, Richard (Joanne) Moe, Denny Anderson, Carol (Andy) Schmitz, brother in law Richard (Marian) Smerek, sister in law Darlene Smerek Haffner, and numerous nephews and nieces.
Wayne was predeceased by his mother and father, and sister Marilyn Plisson.
A Celebration of Wayne's Life will be held on October 26, 2012 at the Mayfield Inn, 16615 – 109 Ave., Edmonton, AB at 2:00 p.m.