BOERSMA Ralph
Posted: October 26th, 2012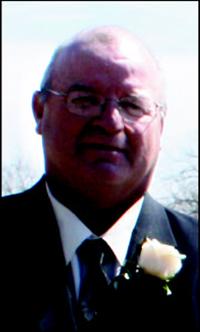 1960 – 2012
Ralph Arien Boersma, beloved husband of Kathy Boersma, passed away
unexpectedly in Taber on Tuesday, October 23, 2012 at the age of 52 years.
Relatives and friends are invited to meet with the family at the Southland
Funeral Chapel, 5006 – 48 Avenue, Taber on Friday, October 26, 2012 between
7:00 P.M. and 8:00 P.M.
The Funeral Service will be held at the First Christian Reformed Church,
3902 Heritage Drive, Taber on Saturday, October 27, 2012 at 2:00 P.M. with
Pastor Richard Klok and Pastor Abe Fehr of the New Life Church officiating.
Burial to follow at the Taber Memorial Garden. Condolences may be forwarded
by visiting our website at www.southlandfuneral.com.
Ralph is survived by his loving wife Kathy and their children Clarissa
(Mark) Brown of Taber, Brandi (Dan) Lengert of Coaldale and Andy (Jolene)
Boersma of Taber; grandchildren Morgan, Mackenzie, Zoey, Mercedes, Shae and
Parker. He is also survived by his siblings Annette (Jack) Kempe of
Lethbridge; Thys Boersma of Lethbridge and Richard Boersma of Vernon,
British Columbia and by numerous nieces and nephews.
He was predeceased by his parents.
On January 10, 1960, Arie and Sadie Boersma were blessed to welcome their
second child into the world. With three other siblings, Ralph would
eventually grow to be a strong pillar in not only his family but his
community as well. He was always the man to call when you were in need.
Ralph met Kathleen Angyal, the woman of his dreams and they were married. He
would bring three children into the world with her. Now a husband, father,
worker and still a strong pillar in the community, he never slowed down. He
made time for his family, friends, work, church, community, children's
friends and even his enemies. Ralph never let a small problem grow into a
large one. He would always say "Be quick to forgive and always love". A very
respected man and anchor in his community, Ralph had to leave this world to
continue his work with the Lord. He will always be fondly remembered by his
friends, coworkers, those in the community who's lives he touched and above
all, his pride and joy, his wife and family.
If friends so desire, memorial tributes in Ralph's name may be made
directly to the Taber Food Bank, 5512 – 48 Avenue, Taber Alberta T1G 1S4.
Arrangements in care of Southland Funeral Chapel, Taber. Telephone: (403)
223-8778.