BERNHART Farrah
Posted: November 15th, 2012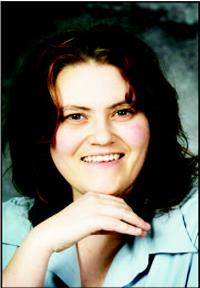 1978 – 2012
Farrah Nicole Bernhart, beloved daughter of Ken and Jill Bernhart of
Foremost, passed away unexpectedly in Red Deer on Friday, November 9, 2012
at the age of 34 years.
Relatives and friends are invited to Prayers at Our Lady Of Perpetual Help
Catholic Church, 203 – 2 Street West, Foremost on Friday, November 16, 2012
at 7:00 P.M.
The Funeral Mass will be celebrated at the Foremost Community Hall, 802 – 1
Avenue West, Foremost on Saturday, November 17, 2012 at 2:00 P.M. with
Reverend Fred Monk Celebrant. A private family burial will follow at the
Foremost Cemetery. Condolences may be forwarded by visiting our website at
www.southlandfuneral.com.
Besides her parents Ken and Jill, Farrah is survived by her brother Bryan
(Lesley) and son Myles of Lethbridge and her sister Corrine (Gary)
Thorsteinson of Red Deer. Farrah's nieces Margo and Rachel Thorsteinson were
her pride and delight. She is also survived by her uncle Bob (Leota)
Bernhart of Lethbridge, aunts Judith (James) White of Vancouver, Ethel
Bernhart of Bow Island and numerous cousins.
She was predeceased by her grandparents Matt and Mary Bernhart, Nick and
Ellis Velker and uncles Ted Bernhart and Jack Velker.
Farrah was born in Lethbridge on August 29, 1978 and raised in Foremost.
She completed high school there, working summers at the "Super Scoop" ice
cream stand, the Foremost tourist booth and volunteering at the Alfred Eagan
home for the severely mentally challenged in Bow Island. Working at the
Alfred Egan as a teenager was the stimulus for Farrah to pursue working with
people with disabilities as a career. She attended Red Deer College and
graduated from the Rehabilitation Program. Her first job in this field was
in St. Paul where she worked with FAS clients. A year later she moved back
to Red Deer and has been working with the Parkland CLASS agency for the last
thirteen years. She worked in several group homes and loved all of her
consumers, even travelling to British Columbia, California and Nashville
with some. Her heart was huge and people with disabilities were especially
dear to her.
Farrah loved to travel and she and her mother went on a yearly summer
holiday. They visited all of the cities in Montana and Saskatchewan. Farrah
ventured to England on her own in 2011 and spent a wonderful two weeks there
touring and watching soccer. Soccer was her passion and she went to Toronto
this past summer to watch her favourite Liverpool team play there.
Farrah was a quiet unassuming girl who was a friend to all – especially
those in need of her love and care. She will be truly missed.
If friends so desire, memorial tributes in Farrah's name may be made
directly to any charity for children or the disabled.
Hold your children close to your hearts as they are only lent to us.
Arrangements in care of Southland Funeral Chapel, Taber. Telephone: (403)
223-8778.