BUCHANAN Verdun
Posted: November 24th, 2012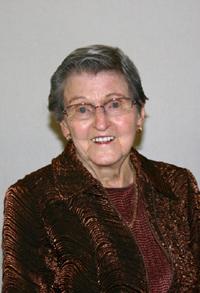 July 23, 1916 – November 21, 2012
Our dear Mother, Grandmother, and Great Grandmother passed away peacefully at the age of 96 in Pincher Creek with family at her side.
Verdun Clearwater was born into a family of 13 children in Carlea, Saskatchewan. She attended the Holy Family School of Nursing in Prince Albert and began her long nursing career in Vancouver where she met her future husband, Douglas Buchanan.
They were married June 16, 1944, and settled in the Castle River Valley where they established and ran a successful ranching operation while raising a family of five children. Verdun continued to work as an R.N. in Pincher Creek until her retirement at the age of 65. She remained very active in her community as a longtime member of the United Church, the Roaring Lions Club, and as a volunteer in many settings including driving for the "Care Bears", helping out at the church thrift shop, and assisting with bingo at the seniors lodge. Verdun supported the P.C. Agricultural Society Fair for over 50 years. She was an extraordinary knitter, and her beautiful afghans are treasured by many family members.
Mom also remained very physically active, including enjoying Aquasize until the age of 95. She was an avid gardener, wonderful cook, and generous hostess to the end.
Verdun was predeceased by her husband Douglas and grandsons Daniel and David.
She is survived by her children Gail (Richard) Bernstein, Ron (Karen) Buchanan, Ken (Karen) Buchanan, Lynne (Ray) Kimberley, Debora (Darryll) Crowshoe; grandchildren Michelle, Doug, John, Brandi, Suzanne, RaeLeigh, Ian, Stephanie, and Stephen; and great- grandchildren Julia, Hudson, Owen, and William.
Mom had a life well lived and well loved.
A memorial service will be held at two o'clock in the afternoon, Tuesday, November 27th at the Pincher Creek United Church.
If desired, donations can be made in Verdun's name to the Care Bears: PO Box 1713, Pincher Creek, Alberta, T0K 1W0; or to the charity of your choice.