GRANT Glen
Posted: December 5th, 2012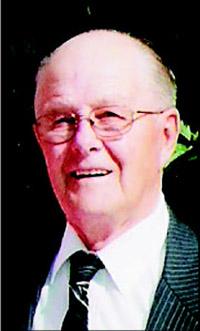 1918 – 2012
Glen Grant, beloved husband of Kathy Grant and also the late Fay Grant,
passed away in Taber on Thursday, November 29, 2012 at the age of 93 years.
Relatives and friends are invited to meet with the family at the Southland
Funeral Chapel, 5006 – 48 Avenue, Taber on Tuesday, December 4, 2012 between
7:00 P.M. and 8:00 P.M. and at the church prior to the funeral service on
Wednesday, December 5, 2012 between 10:00 A.M. and 10:40 A.M.
The Funeral Service will be held at The Church of Jesus Christ of
Latter-day Saints, Taber Stake Centre, 4709 – 50 Avenue, Taber on Wednesday,
December 5, 2012 at 11:00 A.M. Burial to follow at Archmount Cemetery,
Lethbridge. Condolences may be forwarded by visiting our website at
www.southlandfuneral.com.
Besides his loving wife Kathleen, Glen is survived by his sons David
(Marlene) Grant of Taber and their two children Jason (Connie) Grant and
their two children and Carley Grant; Dale (Peggy) Grant of Taber and their
four daughters Deanna (Scott) Nelson and their five children, Rachel (Aaron)
Johnson and their four children, Laura "Katie" (Kyle) Bybee and their four
children and Kristi (Jared) Tanner and their three children; Barry (Susan)
Grant of Taber and their four children Sheri (Doug) Gurney and their four
children, Angela (Andrew) Rodgers and their five children, Neal Grant and
Reena (Rod) Russell; two sisters, Evelyn Johnson and Greta Mueller.
Besides Fay, Glen was predeceased by his parents, sister Edna Jarvis as
well as two sisters and a brother who died as small children.
Glen was born in Taber on December 31, 1918, the oldest son of Wilford
Henry Grant and Harriet Longden. He married Leola Fay Conrad on September 9,
1942. They lived on their farm south of Taber and they raised three sons as
well as many different crops and livestock. Fay passed away in 1996 and on
April 19, 2003, he married Lois Kathleen Hunt. They continued to reside on
the family farm until February 1, 2012, when they moved into Taber.
Glen spent his life in the Taber area, except for a few months spent in
California where he helped his uncle Johnny Longden with the horses. He
returned to marry Fay and settle down on the farm three miles south of
Taber.
Glen enjoyed being outside – farming, gardening and caring for livestock.
He also enjoyed reading. Glen memorized many poems as a young man and
remembered them well into his later years. He was active in The Church of
Jesus Christ of Latter-day Saints all his life, serving in many different
positions and is remembered for his speaking abilities. His grandchildren
and great-grandchildren were very special to him, even in his later years
when his memory was starting to decline, he always wanted to know about
them.
If friends so desire, memorial tributes in Glen's name may be made directly
to a charitable organization of one's choice.
Arrangements in care of Southland Funeral Chapel, Taber. Telephone: (403)
223-8778.