HIGA Yoshiko
Posted: December 6th, 2012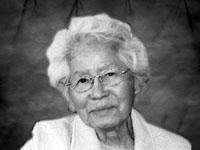 June 10, 1919 – November 30, 2012
Yoshiko Higa passed away peacefully at Cedars Villa Extendicare on November 30th, 2012 at the age of 93. It is a comfort to know that Mom will be with her husband, George Y. Higa, who passed on January 2, 1999 and son, Yoshiro Barney, deceased on December 12, 1948.
Yoshiko Kohashigawa was born in Victoria, BC and spent her childhood with her Grandmother Nagata in Okinawa, Japan. At the age of nine, Yoshiko returned to Canada to be with her family.
George and Yoshiko married in 1938 and had six children. She was a devoted wife and mother, and was selfless in her energy and resources to her grandchildren and great grandchildren. She was a role model to all her family and will be dearly missed.
On their retirement in Lethbridge, they enjoyed golfing and bowling together. Yoshiko was a gifted cook and baker, enjoyed crocheting and embroidery work. She was an avid curling fan for George, the children and grandchildren. After moving to Calgary, Yoshiko enjoyed the friendship and activities at Kotobuki Seniors' Club.
She will be lovingly remembered by her children: Lorraine McNeill (Bill), Ron, Glenn (Diane), Marjorie Fujino, and Tom (Janice), grandchildren: Dianne, Darryl (Pepsi), Richard (Jenny), Rhonda (Ian), Jennifer (Jeff), Allison, Allysia, Justin (Jennine) and Angela (Mark), and great grandchildren: Sam, Lauren, Natasha, Megan and Avery. She will be deeply missed by her Kogawa siblings: David, Lily Ohara (Mori), Gordon (Lillian), Eddy, George (Jean), her wonderful Higa and Kogawa extended family and friends.
A Celebration of Yoshiko's Life will be held at McInnis & Holloway – Chapel of the Bells (2720 Centre Street North, Calgary) on Friday, December 7, 2012 at 2:00 p.m. For those who wish, a viewing will begin at 1:00 p.m. Condolences may be forwarded through www.mcinnisandholloway.com. In lieu of flowers and koden, memorial tributes may be made to the charity of your choice. Thank you to the staff of Cedars Villa for the care you provided to our Mom.
In living memory of Yoshiko Higa, a tree will be planted at Fish Creek Provincial Park by McINNIS & HOLLOWAY FUNERAL HOMES, Chapel of the Bells, 2720 CENTRE STREET NORTH, Telephone: 403-276-2296.