CESAR Daniel
Posted: December 8th, 2012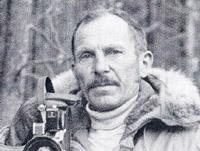 January 20, 1924 – December 2, 2012
Edward (Ed) Daniel Cesar passed away quietly in the Porcupine Lodge in Claresholm at the age of 88. He was born on the homestead of Frank and Angela on January 20, 1924 and later moved to Granum, Alberta.
Ed left school at a young age and traveled to the Douglas Lake Ranch in B.C. to be a cowboy. Returning to Alberta he hired a crew and built bridges on a forestry trunk road through the Rockies, took flying lessons, and worked for a time as a heavy equipment operator.
He trapped a registered trapline in the Rockies for close to fifty years and pioneered humane capture techniques.
Ed began supplying live wolverine, lynx and other animals to zoos across North America and Europe. Soon after marrying Frances in 1959 he began photographing wildlife and writing articles for magazines in earnest. Fifty years later his photos still sell. Ed began filming in the late 1960s in an effort to force governments to write humane trapping standards and discontinue the use of cruel traps. There was intense financial, legal, political and peer pressure to remain silent on the issues; he did not. He moved on to film and directed ten documentaries and a number of short films that were all shown on national TV. His family will cherish the years, spending Christmas on the trapline for many years, summers of filming adventures, and picnics on the weekends.
Ed will be sadly missed by his children, Wendy (Bernie), Dan (Kim), Renee, and Martin (Kitty); his sisters, Clara (Stanley), and Kaye; his grandchildren, nieces and nephews and the multitude of friends made along the way. He was predeceased by his loving wife Frances (nee Fitzpatrick); his parents, Frank and Angela; brothers, Frank (Maxine), George (Joan), Vic (Eileen) and sister Rose (Frank).
Relatives and friends are invited to an informal celebration of Ed's life at the Granum Drop In Centre (306 Railway Avenue) on Sunday, January 20, 2013 from 11:00 A.M. to 3: 00 P.M.
Condolences may be forwarded to the family by visiting www.leydens.com. Arrangements entrusted to LEYDEN'S FUNERAL HOME, Claresholm. Tel: 403-625-3212.