SMYTH Roy
Posted: December 20th, 2012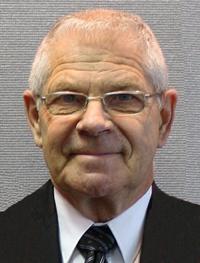 March 3, 1940 – December 15, 2012
Following an illness of only a few months and at the age of 72 years, Roy's struggle with pain and cancer medications came to an end. Born March 3, 1940, and raised by Christian parents on the family farm at Cowley he was the middle son of three boys. He received his early education at Cowley & Lundbreck Schools. This was followed by a year at Mount Royal College and another year at the Baptist Leadership Training School, both in Calgary, before he boarded a cattle trail at Pincher Station, heading for Ontario and the Ontario Veterinary College in Guelph. While in Ontario he met Lois (Pirie) and they were married on September 7, 1962.
In 1966 his uncle Harry Smyth, offered to sell him Cowley Feed & Seed Service, and the move back West was made. For the next 21 years, Roy and Lois enjoyed serving the agriculture communities in the Pincher Creek, Cowley and south eastern B.C. areas until fire destroyed the business in 1987. Employment for a time at the Spring Coulee Seed Plant and later as production manager at XL Feeds in Bassano, and a three month stint in Kazhakstan in Eastern Europe gave ample time to consider the future. It was time for a change in direction.
Following his life-long dream of becoming involved in funeral service, he made a move back to Ontario where he had the opportunity to attend Humber College in Toronto, graduating with honors as a licensed funeral director in 1994. For the next six years Roy was employed by Gilchrist Chapel, McIntyre & Wilkie in Guelph Ontario, and then when most people his age were looking at how they would spend their retirement years, Roy & Lois headed west once more, this time to open their own Pincher Funeral Chapel. A year ago, the business was sold to Snodgrass Funeral Homes from High River, but Roy has continued on as manager of this Pincher Creek location until health forced his retirement just a month ago.
Who was Roy? He was hard working (yes), honest (always), patient (sometimes), impatient (often), caring (yes), always thinking of others first (yes). He had an expression that he lived by, and that is "volunteering is the rent we pay for the privilege of living here." He was a faithful canvasser for Heart & Stroke for over 20 years, a long-time member of the Fergus Brass Band, a Board member of the Kootenay Brown Museum and the Pincher Creek Community Hall, a member of Town Council for several years, as well as a dedicated volunteer at Heritage Acres and in his church. He was a sinner, saved by God's grace.
Roy is survived by Lois, his wife of 50 years, his son Douglas (Gwen) and their children Colton and Rianna, his daughter Mandy (David) Olekshy, all of Calgary, his aunt Selma Tustian and step-mother Marie Smyth, of Pincher Creek and his sister-in-law Marion Smyth of Cowley. He was predeceased by his mother Ila in 1968, his father Eddie in 1999 and his brothers Bobby in 1964 and Jim in 2011.
A funeral service will be held at Foothills Community Church, on Friday December 21, 2012 at 1:30 p.m. with Pastor Paul Sharp officiating. Those wishing to remember Roy with a donation might want to consider Canadian Cancer Society, Heart & Stroke Foundation or World Vision.
Arrangements entrusted to Snodgrass Funeral Homes.