DROTAR George
Posted: January 8th, 2013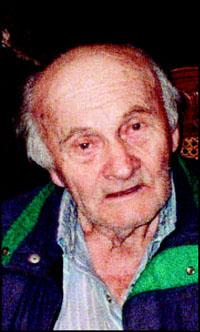 1928 – 2013
George Drotar, beloved husband of the late Teresa Barbara Drotar, passed
away in Taber on Tuesday, January 1, 2013 at the age of 84 years.
Relatives and friends are invited for Prayers at the Southland Funeral
Chapel, 5006 – 48 Avenue, Taber on Sunday, January 6, 2013 at 4:00 P.M.
The Funeral Mass will be celebrated at St. Augustine's Catholic Church,
5009 – 48 Avenue, Taber on Monday, January 7, 2013 at 10:00 A.M with
Reverend Vincent TuanHa Celebrant. Burial to follow in Taber Memorial
Garden. Condolences may be forwarded by visiting our website at
www.southlandfuneral.com.
George is survived by his three sons Randy (Pam) Drotar of Taber, Derek
Drotar of Lethbridge and Jerry Drotar of Taber; grandson Harley Drotar;
brother Ed Drotar; niece Dorothy Hart and nephews Greg and Russell Drotar.
He was predeceased by his wife Teresa and sister-in-law Ruth Drotar.
George was born in Inacovce, Czechoslovakia on June 5, 1928 to John and
Mary Drotar. In 1939 he immigrated with his mother to Canada to join his
father who came years earlier. The family settled in the Taber area where
they farmed north of Barnwell. He married Teresa Bozestowsa on November 11,
1967. George and Teresa remained on the family farm where they raised their
three sons. He will be lovingly remembered and dearly missed.
Arrangements in care of Southland Funeral Chapel, Taber. Telephone: (403)
223-8778.