JOHNSON Eric
Posted: January 31st, 2013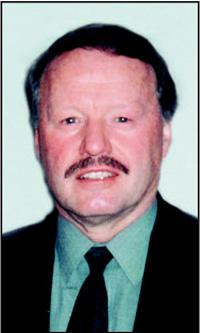 1947 – 2013
Cecil Eric Johnson, beloved husband and best friend of Bonnie Johnson (nee
Odland), passed away peacefully in Taber, following more than a year of
treatment for a rare cancer, on Tuesday, January 29, 2013 at the age of 65
years.
Relatives and friends are invited to meet with the family at the church
prior to the funeral service on Friday, February 1, 2013 between 1:00 P.M.
and 1:40 P.M.
The Funeral Service will be held at The Church of Jesus Christ of
Latter-day Saints, Taber Stake Centre, 4709 – 50 Avenue, Taber on Friday,
February 1, 2013 at 2:00 P.M. with Bishop Chris Ward conducting. Burial to
follow at the Taber Memorial Garden. Condolences may be forwarded by
visiting our website at www.southlandfuneral.com.
Besides his loving wife Bonnie, Eric is survived by his mother Olive
Johnson of Taber; sons Aaron (Rachel) Johnson of Edmonton, Michael (Leela)
Johnson of Edmonton and Tim (Tabitha) Johnson of Taber; Bonnie's children
Bob (Joan) Hall of Lethbridge, Mitchell Hall of Toronto and Trina (Andrew)
Gordon of the Cayman Islands and many wonderful grandchildren. He is also
survived by his sister Cecily Nelson; brothers Murray (Virginia) Johnson,
Graham (Lyn) Johnson and Jim (Ellie) Tatoosh.
He was predeceased by his father Cecil.
Eric was born November 27, 1947 in Taber, the first son of Cecil and Olive
(nee Hall) Johnson. He received his education degrees from the University of
Lethbridge and San Diego State University. He was a prominent educator,
giving many years of service as a teacher, vice principal, principal and a
superintendent of the Horizon School Division. Eric's decades of excellence
in this service were recognized recently when a new board room in the
division office was name the Eric Johnson Room. His personal philosophy was
that "kids" came first in all decisions. Many individuals lives were touched
by Eric's positive attitude and fun loving sense of humour, exhibited by his
motto of "keen sense, common sense and still room for nonsense." Even after
his retirement he served as a principal, accepted other assignments for the
Horizon School Division and was an instructor for the pre-apprenticeship
program with Community Adult Learning.
Eric had a passion for collecting and refinishing antique furniture,
raising pheasants, gardening, hunting, fishing and camping. He enjoyed
building several homes in the Taber area. Eric and Bonnie were golfing
partners and they challenged close friends to many games. One of his
greatest pleasures was being an adoring "Papa" to his and Bonnie's
grandchildren.
Arrangements in care of Southland Funeral Chapel, Taber. Telephone: (403)
223-8778.