QUINN Aileen
Posted: March 9th, 2013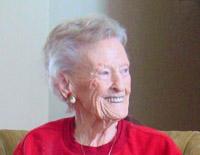 With great sadness the family of E. Aileen "Mac" Quinn announce her death at Edmonton on March 7th, 2013. Beloved wife of her late husband, Russell; loving mother of Karen of Edmonton, Kathy (Gord) Ives of Cape Traverse, PEI, Shelley (Gordon) Hathorn of Edmonton, Scott (Marg) of Beaverbank, NS and Aileen (Lynett) of Edmonton; loving Nana of Alicia, Adam and Sarah Hathorn and Colleen and Brenton Ives.
Mac is survived by two sisters-in-law, Clare Maclean of London, ON and Fran MacLean of Summerside, PEI. She will be sadly missed by numerous nieces and nephews. Mac was predeceased by her youngest son, Ian; parents, Moffatt and Mabel; three brothers, Reginald, James and Ralph; one sister, Florence Warren; and one sister-in-law, Anne MacLean.
Born in Alberton, PEI on February 18th, 1929 her family moved to Summerside, PEI when she was an infant. She was raised and received her schooling there. Her post-secondary education consisted of a hair dressing course in Summerside. Upon completion she practiced in Charlottetown and Ottawa. While in Ottawa Mac was a captain with the Girl Guides and spent many hours volunteering.
Her love of travel brought her west to Banff with her brother Reg in 1953. She was employed at Banff pharmacy where she met her husband Russ. They were married in Edmonton in 1955. Shortly after, they moved to Milk River where they co-owned and operated Quinn's Drug Store. After they sold the Drug Store in Milk River they made their home in Medicine Hat. Mac celebrated her life through her great love of family and friends in Milk River, Medicine Hat and Edmonton. She was an excellent cook and loved to entertain. Nana's cinnamon buns were always in demand. Mac spent many hours on one of her favourite hobbies, needlework. She was a devoted wife, mother and grandmother and will be greatly missed by her family and friends.
The Funeral Mass will be celebrated in HOLY FAMILY PARISH, 1451 Strachan Road SE, Medicine Hat, on Thursday, March 14th, 2013 at 11:00 a.m. Interment will follow in the Family Plot at Hillside Cemetery. In lieu of flowers donations in Mac's memory may be made to the Alberta Heart and Stroke Foundation, 204, 430 – 6th Avenue SE, Medicine Hat, Alberta, T1A 2S8. Condolences may be sent through www.saamis.com or www.gonebutnotforgotten.ca or to condolences@saamis.com subject heading Aileen "Mac" Quinn. Funeral arrangements are entrusted to SAAMIS MEMORIAL FUNERAL CHAPEL AND CREMATORIUM, "The Chapel in the Park", Medicine Hat, Alberta. Should you wish any additional information, please telephone 1-800-317-2647.