MARSHALL John
Posted: March 15th, 2013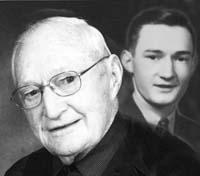 December 24, 1925 _ March 8, 2013
Jack Marshall, aged 87, passed away at Claresholm on Friday, March 8, 2013. He is survived by his loving wife of 59 years, Margaret; son Steven (Sharon); daughter Susie (Steve); grandchildren, Morgan (John), Kendra (Evan), Graeme (Jill), Kayla, Alecia, and Brandon; great-grandchildren, Madison, Keegan, Makenzie, Cayden, and Molly, as well as numerous nieces and nephews. Jack was predeceased by his father William (Bill) and mother Mary; his sister Joan; his daughter Linda; and his grandson Michael.
Jack lived and farmed in the Stavely community all of his life. He was also involved with his father Bill and Uncle Ross in a petroleum business. Marshall Oils was started on the family farm in 1938 as an independent distributor of petroleum products to the Stavely area. In 1947, they affiliated with UFA and he became a Petroleum Agent. The family business continued and it expanded in 1978, moving to the Claresholm Agency. He became partners with his son Steven, and continued until his retirement in 1992.
Jack lived on the family farm south east of Stavely until 1992 when they moved in to Stavely. He was active in the community with the United Church, Curling Club, Fish and Game Association, Community Hall and Golden Age Centre. He was a founding member of the Stavely Museum, and served as a School Trustee for the Willow Creek School Division for several years. He was also a long-standing board member on the Claresholm and District Health Foundation. Jack was an avid outdoorsman and enjoyed fishing, hunting and camping. He was a member of the Stavely Masonic Lodge, Lethbridge Lodge of Perfection, and Calgary Scottish Rite, as well as a life member of the Stavely Elks.
A celebration of Jack's life will be held at the Stavely Community Centre on Wednesday, July 10, 2013 at 2:00 PM. In lieu of flowers donations can be made to the charity of your choice.
Condolences may be forwarded to the family by visiting www.leydens.com. Arrangements entrusted to LEYDEN'S FUNERAL HOME, Claresholm. Tel: 403-625-3212.