GODWIN Jack
Posted: March 23rd, 2013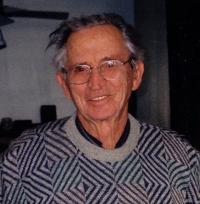 Jack Godwin passed away peacefully on the morning of March 18 at the Chinook Regional Hospital in Lethbridge. Jack was born at Pennant Saskatchewan on January 27, 1917 and grew up on the family farm, where he developed a true joy of life. Throughout his life, his mischievous smile and his quick humorous retorts enlivened many conversations. After serving in Europe during the WW II, he returned to Saskatchewan where he earned a degree in Agriculture. There he met his wife Julie. They settled in Saskatoon and raised a family while Jack worked at the PFRA. After retirement, they moved to Saltspring Island B.C. where they lived for 21 years before moving to Lethbridge in 2000 to be closer to family.
Jack is survived by Julie, his wife of 61 years, sons Ken (Debra) and Bob (Kathy), and daughter Kim as well as grandchildren Ryan (Ashley), Brian (Mai), Jonathan, Lisa (Jayden) and Mike.
Jack was predeceased by his parents Fred and Kathleen, and his four older siblings, Connie, Frank, Kay and Margaret.
A memorial service will be held at 2:00 at McKillop United Church, 2329 15th Ave South, Lethbridge on Friday March 22. In lieu of flowers, donations can be made to the CNIB.