GOULDING Ernest
Posted: March 23rd, 2013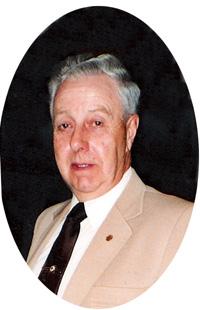 1924-2013
It is with heavy hearts that we announce the passing of Ernest Goulding, age 88 years, of the Crowsnest Pass, Alberta who departed this world on March 17, 2013 while in the CNP Continuing Care Centre with his family at his side.
He is survived by his loving wife of sixty-five years, Lillian; his devoted daughters, Virginia (Brian Dalshaug) and Cynthia (Paul Kiziak); his grandsons, Ryan (Kayla) Pullyblank and Corey Pullyblank; his adoptive sisters, Marguerite Fraser, Betty Pitt, Jeanette Trotz; sisters-in-law, Audrey Crooks and Bernice Allen; his extended family; as well as the numerous friends he made throughout his lifetime.
With respect for Ernie's wishes, cremation will occur with no funeral services. A private family ceremony will be held on Saskatoon Mountain. Donations in memory of the late Ernest Goulding will be accepted by the CNP Health Fdn, Continuing Care Dept., Bag 1, Blairmore, AB T0K 0E0, the Blairmore Legion or the Mason's Sentinel Lodge #26 in Frank, AB c/o Jeff Schlender. Further information and condolences may be registered at www.fantinsfuneralchapel.ca.
Fantin's Funeral Chapel assisting the family. (403) 562-8555.