YACKULIC Anthony
Posted: March 29th, 2013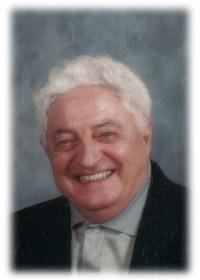 ANTHONY "TONY" VINCENT YACKULIC, beloved husband of the late Marjorie Yackulic passed away at the Chinook Regional Hospital on Monday, March 25, 2013. at the age of 88 years.
He is the proud father of 6 children and spouses and was even prouder of his 17 grandchildren.
Sylvia (Irving) Armstrong, Larry (Lindy) Yackulic, Dorothy Niewendyk (deceased) Rudy Niewendyk, Colin (Evelyn) Yackulic, Brent (Theresa) Bauer and Nancy (Fred) Munrow.
Tony was born January 30, 1925 in Lethbridge, Alberta. He was predeceased by his mother Anna and his father Charles. He had served in the Canadian Army during World War II, later he was employed as manager of Prudential Insurance for 32 years.
He will be forever missed by his loving family.
A Prayer Service will be held at CORNERSTONE FUNERAL HOME – 2800 Mayor Magrath Drive South, Lethbridge, AB on Monday, April 1, 2013 at 7:00 P.M. with Deacon Michael Pollard officiating.
A Funeral Mass will take place at ST. MARTHA'S CATHOLIC CHURCH – 355 Columbia Blvd West on Tuesday, April 2, 2013 at 11:00 A.M. with Reverend Fernando Genogaling Celebrant.
Honoured to Serve
Cornerstone Funeral Home & Crematorium
2800 Mayor Magrath Drive South
Lethbridge, Alberta T1K 7B1
Telephone ~ (403) 381-7777
Fax ~ (403) 381-3128
Toll Free ~ 1-(888)-381-7778
care@cornerstonefh.ca
Interment to follow at Mountain View Cemetery.