GIBSON Joan
Posted: April 27th, 2013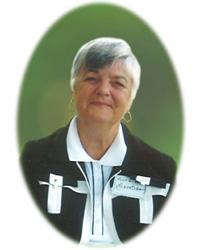 The Lord lovingly called MRS. JOAN GIBSON home on April 21, 2013 at the age of 77 Years.
She is survived by her children; Owen (Linda) Gibson, Jane (Darcy) Brann, Jennifer (Duane) Schaffer; grandchildren Lucas Gibson, Lindsay (Mark) Devine, Jeremy Brann. She is also survived by a great grandchild Mikinlee Devine, sister and best friend Anne Gustavson.
Joan was predeceased by her husband Robert (Bob) James Gibson.
Joan's greatest joy in life were her kids and much loved dog Maggie. She cherished her lifelong friendship with Elsie Youngblood and new friendships with the "Coffee Girls".
"I heard the last faint whistle of a distant train
I heard the birds softly singing
I felt His loving arms around me
Lifting me home"
Rest well my sweet Joanie.
A Celebration of life will be held at CORNERSTONE FUNERAL HOME – 2800 Mayor Magrath Drive South, Lethbridge, AB on Saturday, April 27, 2013 at 11:00 A.M with Dr. Bruce Martin Officiating.
Honoured to Serve
Cornerstone Funeral Home & Crematorium
2800 Mayor Magrath Drive South
Lethbridge, Alberta T1K 7B1
Telephone ~ (403) 381-7777
Fax ~ (403) 381-3128
Toll Free ~ 1-(888)-381-7778
care@cornerstonefh.ca