GOODWIN E Ann
Posted: May 2nd, 2013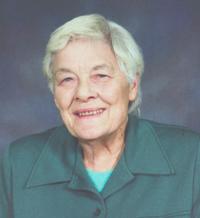 March 9, 1934 – April 29, 2013
E. Ann Goodwin, aged 79, passed away peacefully on Monday, April 29, 2013 at Claresholm, AB.
Ann leaves to mourn her husband Tom; her children, Sean (Tina), Tim (Arlie) and Jan Goodwin; her grandchildren, Eric and David (Nickie); and four great-grandchildren, Clayton, Kristina, Lincoln and Hannah.
She is also survived by her half-brother Allan and numerous nieces and nephews. Ann was predeceased by her father Ralph Whitney; her mother Peggy; two infant sons, Jamie and Keith; as well as her son Kevin; her step-mother Ernestine; her brothers, Derry and Eoin; her sister Oran and a half-brother Doug Whitney.
Born in Red Deer, AB, Ann was a graduate of the four-year Registered and Psychiatric Nurses program at Ponoka with the Class of 1956. She furthered her education and graduated with a Bachelor of Nursing from the University of Lethbridge in 1983.
A funeral service will be held at the Peace Lutheran Church (4304 – 2nd Street West, Claresholm) on Monday, May 6, 2013 at 2:00 p.m., with Donna Alm officiating. In lieu of flowers, memorial donations in
Ann's name can be made to the Claresholm General Hospital Palliative Care Service, Box 610, Claresholm, AB T0L 0T0.
Condolences may be forwarded to the family by visiting www.leydens.com. Arrangements entrusted to LEYDEN'S FUNERAL HOME, Claresholm. Tel: 403-625-3212.