SANGSTER Norma
Posted: May 11th, 2013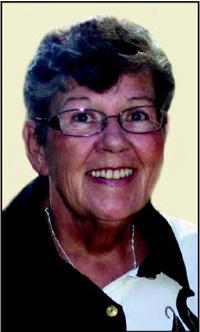 1949 – 2013
It is with great sadness that we announce our sister, aunt and great aunt
Norma Jean Sangster passed away peacefully in Calgary with her family by her
side on Saturday, May 4, 2013 at the age of 63 years, after complications
with a lung infection.
Relatives and friends are invited to meet with the family at Knox United
Church, 4929 – 50 Avenue, Taber on Friday, May 10, 2013 between 7:00 P.M.
and 8:00 P.M.
The Funeral Service will be held at Knox United Church, 4929 – 50 Avenue,
Taber on Saturday, May 11, 2013 at 10:00 A.M. with Reverend Sandra Riddell
officiating. Burial to follow at the Taber Memorial Garden. Condolences may
be forwarded by visiting our website at www.southlandfuneral.com.
Norma leaves behind to cherish her memory her brother Bill (Cheryle)
Sangster of Lethbridge and his family Brian (Enid) Sangster of Parksville,
British Columbia and Cameron Sangster of Lethbridge; sister Lynn Thiessen of
Vauxhall and her children Carey and Nevada Thiessen of Vauxhall, Jace
(Sandra) Zane of Scandia; brother Ian Sangster (Cindy Venhuis) and his
children Kira (Tim) Kinahan and their son Linkin, Brody Sangster (Morgan
Tunow) and his son Hunter all of Lethbridge; sister Cathy (Doug) Odland of
Vauxhall and their family KaLey Odland (Stephanie Sheridan) of Lethbridge
and their son Wyatt, Jesse Odland (Yasmin Dixon) of Vauxhall and Brooke
Odland of Vauxhall; sister-in-law Sandy Sangster of Lethbridge; aunt Hazel
Hamilton of Lethbridge; uncle Red Sangster of Thompson, Manitoba as well as
numerous cousins and her two very special companions Koko and Scottie.
She was predeceased by her parents Bill and Joan Sangster; brother-in-law
Jake Thiessen.
Norma was born on August 5, 1949 the third child of Bill and Joan Sangster.
She was raised on the family farm at Fincastle, where as a kid she loved to
ride horses, help her dad and was an active member in 4-H. Norma graduated
from W.R. Myers in 1967 and went on N.A.I.T. to complete a course as a
Respiratory Technician. She then went on to the Lethbridge Community College
to complete her studies to become a Registered Nurse. Norma later took
courses at McMaster University in Hamilton to receive her Nurse
Practitioners Certificate. She started her career at the Misericordia
Hospital in Edmonton, then worked at St. Michael's Hospital in Lethbridge as
well as Brooks, Magrath and Siksika Health Centers. Norma continued her
career in numerous small communities in Northern Ontario, Yukon and the
Northwest Territories.
She loved to travel and over the years she travelled to Greece, Italy,
Australia, New Zealand, Fiji, Great Britain twice and Hawaii.
In her earlier years she loved to play ball, curl, ski and paint. Camping,
fishing and golfing became some of her favorite pastimes that she would do
with anyone anytime. Norma did all the baking for the family. She also
enjoyed gardening, where she must have inherited the green thumb from when
she used to help grandpa garden at the farm.
Her children were her puppies and she loved her nieces and nephews, but her
passion was always medicine. Four years ago she was diagnosed with
rheumatoid arthritis and was unable to work. She spent most of her time
between her cabin at the Hidden Valley Resort in Cluny and Taber, Vauxhall
and Lethbridge. Recently she had mentioned she thought she would start to
paint again and about buying a horse for herself. Norma lived her life the
way she wanted, she was a free spirit that was loved and will be missed by
many.
If friends so desire, memorial tributes in Norma's name may be made
directly to the Alberta Lung Association, Box 4500, Station South, Edmonton,
Alberta T6E 6K2.
Arrangements in care of Southland Funeral Chapel, Taber. Telephone: (403)
223-8778.