LARSON Lief
Posted: May 15th, 2013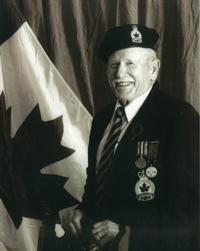 1927 ~ 2013
It is with great sadness we announce the passing of Lief Barden Larson on Friday, May 10, 2013 at Chinook Regional Hospital at the age of 86 years.
Lief left his home in Retlaw, Alberta at the age of 15 to join the army; from then on he never slowed down. After the war he travelled to Steveson, BC and became a commercial fisherman. Several years later he travelled back to Retlaw, Alberta and married Jeannie Toker in 1953. Together they raised their 4 children on the family homestead. In 1978, Lief quit farming and returned to Parksville, BC to fish once again. He stayed on the coast until 2006, and returned to Lethbridge where he resided at the Garden View Lodge until his passing. Lief was a Veteran, a Frontiersman and a proud Legion member for 67 years. He also belonged to the Mason's, Shriners, and Army and Navy Clubs. Lief kept busy until 3 days before he became ill; repairing vacuums, returning shopping carts and picking up garbage at various local businesses.
Lief is survived by his daughters Valinda Cummins, Kendra Larson (Kirk Oseen) and Colette Staples (Wesley); his son Lonnie Larson; his grandchildren Dustin Compton (Dallyn Robinson), Jason McNiven, Cory Benson (Renee Gervais), Amanda Binder (Karl), Katie Vanloenen (Mike), Coleman Larson (May Ann), Michael Staples and Dylan Staples; his great-grandchildren Easton Compton, Taylor and Jayden McNiven, Kayley Clark, Chloe Gervais, Myah Benson, Brynn and Declan Binder, Lorenne Vanloenan, and Owen Staples; his brother Lou Larson from Penticton, BC.
Lief was predeceased by his parents Carl and Mary Larson and his brother Wilfred Larson.
A Memorial Service will be held at 1:00pm on Saturday, May 18th, 2013 at the ROYAL CANADIAN LEGION | 324 Mayor Magrath Drive South, Lethbridge.
Flowers are gratefully declined. Those who wish, memorial donations may be made to the Royal Canadian Legion Branch #4 | 324 Mayor Magrath Drive South, Lethbridge, AB T1J 3L7.
Send condolences at www.mbfunerals.com.