CATONIO Valentino
Posted: May 22nd, 2013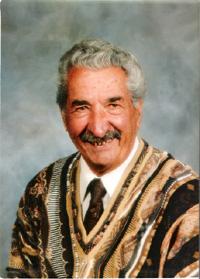 In loving memory
(1927-2013)
It is with heavy hearts that we announce the passing of Valentino Paul Catonio, formerly of Blairmore, Alberta, who was called to be with the Lord on May 19, 2013 while receiving care at St. Michael's Palliative Care Centre in Lethbridge at the age of 85 years.
"Tino" was born on May 22, 1927 in Blairmore, Alberta to Giovanni and Maria Catonio. He was raised with a strong work ethic and devotion to family, faith and community. He followed in his father's footsteps by working diligently at the family's grocery store and later opened his own grocery store in Blairmore.
Tino's heart was captivated by a lovely young lady, Mary Pozzi, and they pledged their love in holy matrimony on August 17, 1957. They were further blessed with a family of their own. He was a loving husband, father, grandfather and friend.
Tino was a member of the Benevolent & Protective Order of Elks, the Crowsnest Pass Curling Club and the Knights of Columbus. He was instrumental in the construction of the Albert Stella Arena and the Holy Trinity Roman Catholic Church and he was party to former Prime Minister Pierre Trudeau's visit to the Crowsnest Pass. His passion and resolution were extraordinary and in our eyes, there was no challenge too great or obstacle too high for Tino to overcome; at the age of 64 years, he climbed to the top of the Crowsnest Mountain.
Tino had a strong will, a stronger opinion on politics and sports and enjoyed a good spirited debate. His loyalty to his favourite sports teams was well known in this area. We would be remiss if we did not mention his Calgary Flames, Calgary Stampeders, New York Yankees and the Oakland Raiders. His competitive side was fierce and his zest for life even more so. Tino and Mary enjoyed their vacation home in Mexico for the past 23 years. They also spent many enjoyable hours landscaping their yard and gardening. A long life of hard work, may he find eternal peace and happiness at the banquet table in heaven.
He is survived by his beloved wife, Mary Catonio of Lethbridge; his children, Francine Catonio of Surrey, BC, Colin (Laurie) Catonio of Lethbridge and Gerald (Michelle) Catonio of Calgary; his grandchildren, Chantel Begley, Brittany Catonio, Ashlee Catonio, Trista Catonio, Ciana Catonio and Natalia Catonio; his brother, Francis Catonio of Lundbreck; his sister, Anne Hansen of Regina, SK; as well as numerous nieces and nephews, extended family and friends.
He was predeceased by his father, Giovanni Baptista Catonio; his mother, Maria Antonia Catonio (nee: Accili); and his siblings, Steve Catonio, Albert Catonio and Teresa Bitzer.
The Funeral Mass was held on Wednesday, May 22, 2013 at 3:00 pm at the Holy Trinity Roman Catholic Church with Fr. Thomas Vadassery, Fr. Vincent Ha and Rev. Renso Castellarin officiating. Cremation followed at Fantin's Funeral Chapel's private crematorium.
Donations in memory of the late Valentino Catonio may be directed towards the Holy Trinity Catholic Church Building Fund, PO Box 1410, Blairmore, AB T0K 0E0. Condolences may be registered at www.fantinsfuneralchapel.ca.
Fantin's Funeral Chapel entrusted with arrangements. (403) 562-8555.