SCOTT Marjorie
Posted: May 30th, 2013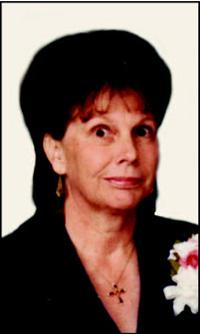 1947 – 2013
Marjorie Jeanne Scott (nee Brewin), beloved wife of Allan Scott, passed
away in Taber on Friday, May 24, 2013 at the age of 66 years.
Relatives and friends are invited to meet with the family at Southland
Funeral Chapel, 5006 – 48 Avenue, Taber on Tuesday, May 28, 2013 between
7:00 P.M. and 8:00 P.M.
A private burial service will be held at the Taber Memorial Garden on
Wednesday, May 29, 2013 with Canon Allan McCuaig officiating. Condolences
may be forwarded by visiting our website at www.southlandfuneral.com.
Besides her loving husband Allan, she is survived by her children William
(Hayley) Scott of Coaldale and children Dannielle, Kyle and Tilly; Kenneth
(Erin) Scott of High River and children Leesha and Andrew; brothers Frank
(Colleen) Brewin, Gerald (Margaret) Brewin, Tim Brewin, Eleanor Wagner,
Monica Berryhill; sisters-in-law Mary and Cher Brewin as well as numerous
nieces and nephews.
She was predeceased by her son Keith; parents Rowland Frank & Marjorie
Brewin; brothers Jack, Rod, Alfred, Norman (Buster) Brewin; sisters-in-law
Lillian and Pat Brewin.
Marjorie was born on January 1, 1947 into a farming and ranching family
southeast of Purple Springs. She developed her love and passion for horses,
livestock, farming and country lifestyle during her childhood and teenage
years on the farm. She was the youngest in the family of seven brothers and
two sisters. At the age of seventeen, she moved to Calgary to attend
business college. Following college, she took a job with Transalta Oil and
Gas that she enjoyed and was successful at.
At eighteen, Marjorie met her husband to be, Allan Scott. They quickly
became best friends and before long they were married in February 1967.
Later that year they welcomed their first son Keith to the family. After
having started their family, they relocated to sunny Southern Alberta,
returning to the family farm in 1968. They welcomed their second son William
in 1972 and then their third son Kenneth in 1974.
Marjorie loved all the years that she, Allan and the boys had together.
Although the years and times presented multiple challenges, she loved the
Lord and her family.
Her passion for livestock, especially horses never waned. While on the farm
she would always ensure that there was livestock of one sort or another,
including dogs.
Marjorie was always well liked, respected and appreciated by whoever she
met. Whether it was at work, church functions, her personal life or in her
later years during speaking engagements, this held true. Marjorie will be
lovingly remembered by her family and friends.
If friends so desire, memorial tributes in Marjorie's name may be made
directly to the Taber and District Health Foundation (Palliative Care), 4326
– 50 Avenue, Taber, Alberta T1G 1N9 or the Chinook Regional Hospital
Foundation (Unit 4B), 960 – 19 Street South, Lethbridge, Alberta T1J 4W5.
Arrangements in care of Southland Funeral Chapel, Taber. Telephone: (403)
223-8778.