VOISEY Leonard
Posted: May 30th, 2013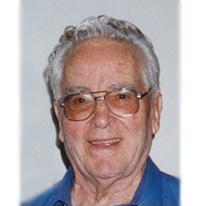 September 12, 1919 – May 26, 2013
Leonard Nelson Voisey of Okotoks, Alberta died in Calgary on May 26, 2013 at age 93. Born September 12, 1919, the only child of Guy and Linda Voisey, he spent his youth in Calgary and on a farm west of Champion, Alberta. He married Alice Johnston in 1944 and farmed in the Champion and Vulcan area until 1976 when the couple moved to the Lower Fraser Valley in British Columbia. They relocated to Alberta in 2010. Mechanically creative, Leonard restored antique cars and built miniature steam engines. He enjoyed collecting antiques, boating, dancing, playing bridge and watching football. He loved any social gathering that involved laughter and story-telling. He was a long-time Mason and Shriner. He served in various offices and enthusiastically participated in many Shrine activities. Leonard and Alice travelled widely, visiting Europe, the United States, Latin America and Asia.
Leonard is survived by his wife Alice Voisey, Okotoks; son Paul (Donna) Voisey, Edmonton; and daughters Linda McDougall, Kelowna; Irene (Brad Knowles) Montgomery, Calgary; Kristine (Scott) Ross, Cherryville, B.C.; by grandchildren Jennifer (Scott) Martin, Danny McDougall, Chelsea (Ian Wilson) Montgomery, Amy Montgomery, Charlotte Montgomery, and Guy Voisey; and by great-grandchild Alice Martin. No
services will be held. Donations in his name may be made to the Shriners Hospitals for Children. https://shriners-canada.com/e/ donate.asp
Caring for the family is Lyle Reeves Funerals of High River (Craig Snodgrass) 403.652.4242.