HARRIS Howard
Posted: May 31st, 2013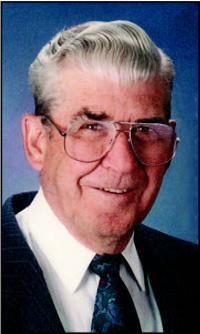 1921 – 2013
Howard Melvin Harris, beloved husband of LaRue Harris (nee Burbank), passed
away in Taber on Sunday, May 26, 2013 at the age of 91 years.
Relatives and friends are invited to meet with the family at Southland
Funeral Chapel, 5006 – 48 Avenue, Taber on Thursday, May 30, 2013 between
7:00 P.M. and 8:00 P.M. and also at the church prior to the funeral service
on Friday, May 31, 2013 between 1:00 P.M. and 1:40 P.M.
The Funeral Service will be held at The Church of Jesus Christ of
Latter-day Saints, Taber Stake Centre, 4709 – 50 Avenue, Taber on Friday,
May 31, 2013 at 2:00 P.M. with Bishop Chris Ward conducting. Burial to
follow at the Taber Memorial Garden. Condolences may be forwarded by
visiting our website at www.southlandfuneral.com.
Besides his loving wife LaRue, he is survived by his children Robert (Judy)
Harris of Taber, Melissa (Jon) Dudley of Magrath, Heather Lobban of Edmonton
and Todd Harris of Oshawa, Ontario; son-in-law Gordon Pender of Lethbridge,
sixteen grandchildren and twenty one great grandchildren. He is also
survived by his sister Loreen Ackerman of Lethbridge; brothers and
sisters-in-law Barbara Kenney of Magrath, Pauline (Danny) Laurie of Raymond,
Bernard (Carol) Burbank of Calgary and Blaine (Judy) Burbank of Vauxhall.
He was predeceased by his son Melvin Jay Harris; daughter Dana LaRue
Pender; parents Ira and Roxanna Harris; sister Lois Westhora;
brothers-in-law Bill Westhora and William B. (Babe) Ackerman.
Howard married his sweetheart LaRue Burbank on June 30, 1948 in the
Cardston Temple. He farmed west of Taber. Howard and LaRue moved to Victoria
for three years and upon returning to Taber, he was custodian at the Taber
LDS Stake Centre until his retirement.
Howard loved people and being of service to others. He was a kind and
gentle man. Howard was an active member of The Church of Jesus Christ of
Latter-day Saints, serving in many positions throughout his life. He and
LaRue especially loved serving in the Temple. He lived a life of service to
his family and church. Howard always had a twinkle in his eye. He will be
lovingly remembered and dearly missed.
Arrangements in care of Southland Funeral Chapel, Taber. Telephone: (403)
223-8778.