MAGIERA Debbie
Posted: June 7th, 2013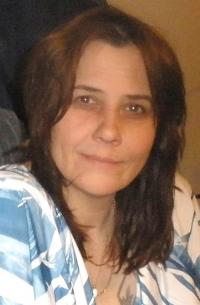 Feb. 22, 1962 – Apr. 28, 2013
We invite you to come celebrate the life of our dear daughter, mother, sister, companion, auntie and friend.
Debbie was born in Red Lake, Ontario, to Heinz and Marjorie Magiera. She was predeceased by her mother and stepmom Jessie.
Debbie is survived by her father Heinz Magiera, two sons, Trevor Magiera (Jen) and Ross Magiera Buckley (Danielle), her loving companion Leighton Nelson, and his parents, two sisters and one brother, Doreen MacLean (Stewart), Donna Magiera (Colin), Richard Magiera (Janice) and all their families, as well as, all her family in Germany.
Debbie was close to the Buckley family, GG, Andrea, Jerry, Reva, and many aunts, uncles, nieces and nephews. Many days were spent together with lots of love.
From a young age, Debbie formed many long lasting friendships, that she cherished. Debbie and Lisa, shared many days crafting, camping or just hanging out.
Dear Debbie, you imprinted our hearts with your legacy of love. Always loved, never forgotten. Rest in peace, Deb.
Please join us on Saturday, June 8, 2013 at 12 noon, 1715 Mayor Magrath Dr. S., lower level, rear entrance at The Keg Restaurant. A luncheon will follow to celebrate Debbie's life.