LITTLE MUSTACHE Wilma
Posted: August 21st, 2013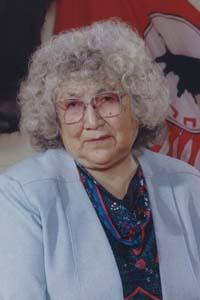 Wilma Stillsmoking LITTLE MUSTACHE passed away on Saturday, June 22, 2013. She is survived by her loving husband, Alphonse, Daughters: Mary Ellen, Debbie, Helen (Sharon), Son: Mike (Carol), Son-in-Law, Eric North Peigan, Daughter-In-Law, Bonnie Little Mustache and numerous grandchildren, great grandchildren, and 2 great, GREAT grandchildren. Her sister, Margaret Bell and brother, Benjamin from Browning and 3 brothers: Stanley (Susan), Walla Walla, WA, Micheal (Kristina), Rockport, TX, and Wesley (Esther), in McCloud, OKLA. Wilma moved to Canada in 1962. She had been born in Durham, MT, just 7m. West of Browning. She met and married Alphonse, in 1951. They had 6 children, who survived to adulthood. Wilma led a very interesting life. She treasured the life-long education, which enabled her to train in Business Mgt., Music and the `Humanities". In 1951, she graduated from the Browning High School, with Earl Old Person, as one of her fellow alumni. She and Alphonse faced many obstacles, as a young couple. But, they managed to travel in U.S. and Canada, to work and support their growing family. In 1962, they moved to the Piikani Nation and lived with relatives. Later establishing 3 consecutive home sites, including their present ranch home, in the Porcupine Hills. Piikani-Blackfoot tradition, the Cowboy Way of Life, and the Catholic Church guided Wilma, as she became a staunch member of the community. The Piikani names given to her and her female cousins, all included the base word `steal`, in various forms. This spoke of an ancient past, when our Grandpas were proud of their horse stealing, in feats of battle. Wilma was "Honest — as the day is long" and "Generous — to a fault"!! She displayed true love and compassion, for her people, that extended way beyond her immediate family. She busted trails as a Guide to Modern Business practices, way back in the 50`s, 60`s, 70`s….Days before the computer. She was adept at Accounting, Shorthand, and working with people. Some of the positions she worked as included: Secretary for the Blackfeet Tribe and Town of Pincher Creek, Housekeeping at Camsel Hospital, Piikani Band Secretary, Office Mgr., Band Councillor (2 terms), Social Worker, Board Member: Napi Friendship Ctr, Piikani School, PeKunNee Crafts Ltd., Treaty 7, Alberta Native Women`s Assoc., Rodeo Secretary, Home Maker, Traditional Cook, Teepee owner and maker, PowWow Dancer, Church Organist, Think Trades, Supporting her husband and two sons and grandsons. To herself, she was a perfectionist…..To her family, she was a Rock….She helped to organize international family reunions, served on the Brocket Parish Council and was an avid Rodeo and Hockey fan. She loved to play Bingo, but was leery of the loud and garish Slot Machines!! She was predeceased by 2 children in infancy, her parents, Bill and Mable Stillsmoking, grandson, Noel, and brothers, Dean, Robert, Wilford and Billy. A Funeral Mass was held at 2:00 P.M., on Thursday June 27, 2013 at ST. PAUL'S CATHOLIC CHURCH, Brocket, AB, with Father Freddy Valdivia, Officiating. A Wake Service to follow at Wilma's Residence. A Funeral Service will be held at 1:00 P.M., on Saturday June 29, 2013 at the BROCKET COMMUNITY HALL, Brocket, AB, with Father Freddy Valdivia, Officiating. Interment to follow at Brocket Cemetery.