HEDLEY Bill
Posted: January 14th, 2014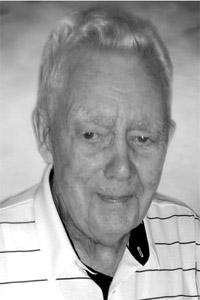 November 4, 1922 – Taber, AB
January 9, 2014 – Calgary, AB
Bill Hedley beloved husband of Molly Hedley of Calgary, formerly of Taber, passed away on Thursday, January 9, 2014 at the age of 91 years. Bill was born in Taber and raised on the family farm in Manyberries, AB. He worked on the construction of the Sugar Factory and it was during this time that Bill and daughter Frankie lost their wife and mother Hazel in 1947. Bill continued on at the Sugar Factory as a Mechanic where he met Molly, they married in 1952 and had three more daughters. He loved to spend time golfing at the Taber Golf Course and helped keep the course's equipment running, which garnered him a free life time membership. They enjoyed camping in Waterton with family and friends. Bill's friends and family will miss his handyman skills always lending a hand to anyone that needed it. Besides his loving wife of 60 years Molly, Bill is survived by his four daughters Frances Phillips (Chris), Pat Hedley, Debbie Hedley Dobbin (Tony) and Sheila Syme (Brent); seven grandchildren Jason Phillips (Debbie), Sandra Meinen (Ben), Sara Syme, Amber Roberts (Dave), Michael Syme, Alexander Dobbin, and Luci Dobbin; five great- grandchildren; two sisters Lil Burgess and Eunice Bower (John) and numerous nieces and nephews. Bill was predeceased by his first wife Hazel Nelson; his brother Leonard Hedley and sisters Audrey Prouty and Mary Ambler. Funeral Services will be held at McINNIS & HOLLOWAY'S Park Memorial Elboya Chapel (5008 Elbow Drive S.W. Calgary, AB) on Wednesday, January 15, 2014 at 2:00 p.m. A memorial service will be held in Taber, AB at a later date. Condolences may be forwarded throughwww.mcinnisandholloway.com. If friends so desire donations can be made directly to the CNIB Alberta (15 Colonel Baker Place NE, Calgary, AB T2E 4Z3) www.cnib.ca. In living memory of Bill Hedley, a tree will be planted at Fish Creek Provincial Park by McINNIS & HOLLOWAY FUNERAL HOMES Park Memorial Chapel, 5008 ELBOW DRIVE S.W. Calgary, AB, T2S 2L5,Telephone: 403-243-8200.