FOX Bernadette
Posted: May 30th, 2014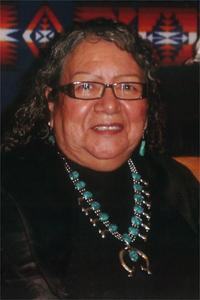 Naatoyitapiaakii – Holy Spirit Woman
December 17, 1945 – May 24, 2014
Age: 68 years
In the early evening of Saturday May 24, 2014, surrounded by family, friends, and prayers of the Holy Rosary, our beloved Mother, Grandmother, Sister, Aunt, Friend BERNADETTE – Naatoyitapiaakii, made the very special journey to be with our Lord and Creator, Iihtsipaitatiiyio\'p. Bernadette was a very special lady, a true angel among us. She had the gift and grace of helping others and was an inspiration to many. She was born into the Many Children Clan of the Blood Reserve. Her parents, Stephan and Emma, raised her with the knowledge of both the Catholic and Traditional Native way of life and with this she was able to live a life full of spiritual strength and prayer. She was dedicated to her children and family; they were the pillar that motivated her. Bernadette attended St. Mary Residential School until the age of 16 then she attended Catholic Central High School where she graduated from Grade 12. She attended NAIT and SAIT and graduated with a Diploma in Dietary Technology. Later in life she attended College in Lac La Biche where she completed training to become a Community Health Representative. She also attended Newman Theological College and received a Certificate in Pastoral Biblical Theology. Bernadette worked at the Blood Indian Hospital for 18 years where she managed Food Services. In 1993 she began her work with the Blood Tribe Department of Health in the areas of Community Health, Dietary Services and the Breast Health Program. She continued this work until January 2014. Bernadette was also dedicated to her work as Teacher and Elder for the children and staff of Opokaa\'sin Child Development Center in Lethbridge. Bernadette also devoted many hours to her volunteer work for the Canadian Cancer Society and to Immaculate Conception Parish Council. This work was very rewarding to her as she knew she was helping others lead more healthy and spiritual lives. In 1994, Bernadette was professed to the Order of Saint Francis. This was a very special time for her as she knew it would enrich her spiritual life. In 1998, Naatoyitapiaakii became a Ninaimskaakii, Medicine Pipe Bundle Holder. This vow was made by her Aunt Ruth Little Bear in recognition of her battle with breast cancer. For Bernadette this began a journey of great spiritual growth and enlightenment. Bernadette was predeceased by her husband Gilbert (Q.E) Tailfeathers, her parents Stephen Fox Sr. and Emma Manyfeathers, Step-Father George Manyfeathers, Father and Mother-in-Law, Harvey and Nellie Tailfeathers and Grandparents Charlie Panther Bone and Margaret Low Horn. A Wake Service will be held at CORNERSTONE FUNERAL HOME – 2800 Mayor Magrath Drive South, Lethbridge, Alberta, on Thursday, May 29th, 2014 from 5:00 – 9:00 P.M. A Funeral Mass will be celebrated at ST. MARY\'S IMMACULATE CONCEPTION CATHOLIC CHURCH, Blood Reserve, Alberta, on Friday, May 30th, 2014 at 11:00 A.M. with Father Pawel Andrasz O.M.I., Celebrant. Interment to follow at St. Paul\'s Cemetery.