VISVANATHA Van
Posted: September 30th, 2014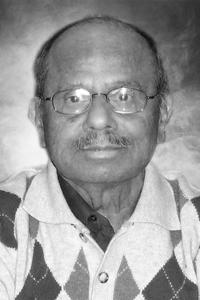 Narasimhan Appala (Van)
March 1, 1936 – Gurajanapalli, Andhra Pradesh, India
September 20, 2014 – Calgary Alberta
Van Visvanatha, beloved husband of Sarala Devi Visvanatha (nee Karri) of Calgary, AB, passed away on Saturday, September 20, 2014 at the age of 78 years at the Foothills Medical Centre. Van was born in Gurajanapalli, Andhra Pradesh, India to parents Somanna and Narasamma Visvanatha. Van earned his Bachelor in Civil Engineering from Andhra University Kakinada in 1957 as well as his PhD in Civil Engineering (Water Resources) from Utah State University in 1975. Van had many career highlights throughout the ten countries he worked in. Van started his Civil Engineering career at CWPC and CPWD India and Nepal from 1957-1971. He worked as a consulting engineer at Keith Consulting in Lethbridge, AB from 1975-1981. Van facilitated the design of Oldman River Dam and managed RAJAD project in Kota, India from 1992 to 2001. He was a consulting engineer at UMA Engineering in Lethbridge and Calgary from 1981 until retirement in 2001. Since retirement, Van was actively involved with VanS Consulting, Rotary Club of Sarcee, and UPS Store #36. Van enjoyed travelling, going for walks and bike rides. He had interests in astrology, Indian classical music, and computers. Van had a strong work ethic and doing it right the first time, and didn't believe in \"giving up\". He battled pancreatic cancer for almost four years. Van was known for his favourite phrases: \"No such thing as a free lunch\", \"It's a package deal\" and \"Time is money.\" Van was notorious for giving advice to anyone who would listen. Besides his loving wife of fifty-three years Sarala, Van is survived by his children, Kumar (Monika), Lakshmi (Douglas Stewart), Surya (Sumita), and Sanjeev (Susmita); eight grandchildren, Ian, Anisha, Colin, Rohini, Curtis, Rajani, Shivanshi, and Rohit; and sisters, Kantham Pariti and Lakshmi Moorty. A Memorial Service will be held at McINNIS & HOLLOWAY (Crowfoot, 82 Crowfoot Circle N.W., Calgary) on Saturday, October 4, 2014 at 2:00 p.m. Condolences may be forwarded through www.mcinnisandholloway.com. In lieu of flowers, the family would like donations made to Alberta Cancer Society. The family would also like to thank the Calgary health community for the excellent care he received including Tom Baker Cancer Centre, Revera Home Care, Doctors: Joyce, Dowden, Bathe, Stewart. In living memory of Narasimhan Visvanatha, a tree will be planted at Fish Creek Provincial Park by McINNIS & HOLLOWAY FUNERAL HOMES, Crowfoot, 82 Crowfoot Circle N.W., CALGARY Telephone: 1800-661-1599.