CROWSHOE Louisa
Posted: October 1st, 2014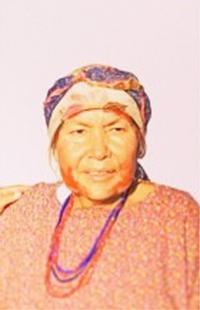 "Matsowamoniisaaki\"
(Beautiful Otterwoman)
1947 – 2014
Louisa Crowshoe, beloved wife of Leo Pard, Brocket, passed away at the Pincher Creek Hospital on Sept. 29th, 2014 at the age of 67 years. A family prayer service will be held at Snodgrass Funeral Chapel, Pincher Creek on Thursday, Oct. 2nd at 1:00 P.M. followed by wake services at the family home at Brocket about 2:00 P.M. A funeral service will be held at the Brocket Community Hall on Friday, October 3rd at 11:00 A.M. The Ven. Archdeacon Sidney Black officiating. Interment will follow at Brocket Cemetery. Snodgrass Funeral Home, Pincher Creek (403) 627 4864, directors.