CHRISTIANSON Clara
Posted: October 7th, 2014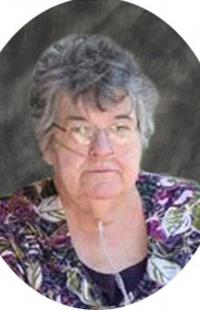 CLARA "PEARLE" CHRISTIANSON, beloved mother, grandmother, sister, den mother and friend passed away at the Chinook Regional Hospital on October 3, 2014 at the age of 77 years. Mom was named after her paternal aunt Clara Coverdale and maternal grandmother Pearl Nasadyk. She would answer to Clara Pearle, Pearle, CP, Mom, Ma, Mama, Grammy and Gramma or Gramma Pearle…. but no one dared to call her Pearlie ("the "E" is silent!) Her little brother and friend Sue Sue were the only exceptions to that rule. Pearle is lovingly remembered by her son Dean Christianson (Tracey) of Castlegar, B.C. and daughter Caren Christianson (with a "C") of Lethbridge, by her brother Allen Evans of Nanaimo, B.C. and grandchildren Alyssa and Keegan of Castlegar, B.C. and Isabella of Lethbridge. Pearle was born 2 months premature on December 22, 1936 and raised primarily in Foremost, Alberta. She came into this world fighting for breath, delivered and cared for by her paternal grandmother Isabella Evans. That fight and determination carried her throughout her entire life. Pearle moved to Lethbridge in 1967 with two kids in tow and a new path to travel. Knowing that the University of Lethbridge would be opening on the \"new west side\" in the next couple of years, she was determined to get in on that and get herself ready to go back into the workforce. In 1971 the University opened and Pearle was there thriving and working in almost every area of Food Services. Along the way, she created and maintained many lifelong relationships and will be fondly remembered by staff, faculty, students and alumni alike. Some of these friendships overflowed into our home and they became a part of our family. Pearle loved to meet people and she made friends everywhere; on a greyhound bus, on a city transit bus, in the hospital… wherever she was and wherever she was going. Remarkably, Pearle kept up with these friendships from her family, her hometown, from across the street, country or across the oceans, and never forgot a birthday. She was Gramma Pearle for so many across the globe. With that said, Pearle\'s memory is also cherished by Ken and Monica McClain of Lethbridge, Diane and Scot Barton of Stirling, Carlos and Sarah Qafaiti of Calgary, Khalid and Angie El Hilo of Singapore, Jennifer and Troy Millet of Calgary, James and Linda Baron of Coaldale and Sylvie and Paul Cormier-Smith of Lethbridge. Pearle is also survived by Diane, Grant, Keith and Norman Druhan and families, as well as Lynn Arnold of Lethbridge, her sister in her heart. In 2002, Pearle started her fight with COPD and for the following 12 years, fought harder than anyone could. She never lost her spunk, or her will to carry on with her journey, continued to tell you what she thought and called a spade a spade. If you loved her, she loved you back 100-fold and you felt the depth of that love. A special thank you to our wonderful Home Care family; Shalane, Barb, Colleen, Sherri, Mary, Nichole, Terri and more – Pearle loved you all and so appreciated your help and compassion in these final years. On Friday morning Pearle took her last breath while holding the hand of her best friend and daughter, Caren. The fight was over and she went peacefully on to an easier new journey. Thank you to Andrea on 4B, for those final hours with mom. Thank you to Dr Eric Wilde – we cannot express the gratitude we have for you. Thank you for believing in her strength and the love she held for so many. Thank you for being more than a doctor but also her dearly respected friend. Relatives and friends are invited to a Celebration of Pearle's Life at CORNERSTONE FUNERAL HOME, 2800 Mayor Magrath Drive South, Lethbridge, AB., on Thursday, October 9th, 2014 at 3:00 P.M. A Private Interment will be held at a later date. In lieu of flowers, donations can be made in Pearle\'s memory to the Alberta Lung Association, 17420 Stony Plain Road N.W., Edmonton, AB, T5S 1K6.