BENY Leslie
Posted: December 17th, 2014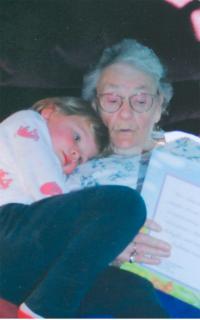 passed away December 11, 2014 in Victoria, B.C.
\"Cuddle Time\" with the Waterton
cabin's \"Favorite Storyteller\"
A very precious soul, whose heart was so full of love for her family….
I'm Gone……
I've come to the end of my journey
and I've travelled my last weary mile,
Forget if you can, that I ever suffered
And remember only my smile.
Forget to grieve for my going,
I would not have you sad for a day,
But in summer just gather some
\"Purple Carnations\"
and place them where I will lay.
And come in the evening
When the sun paints the sky in the west,
Stand for a few moments beside me
and remember only my best….
Moms, 15 grandkids, 21 great grandkids and their parents will gather in the summer for her final farewell. To e-mail an expression of sympathy, please direct it to: pattfh@telusplanet.net subject heading: Frances Beny, or you may visit www.pattisonfuneralhome.com and leave a message of condolence. Arrangements are by the PATTISON FUNERAL HOME AND CREMATORIUM 540 South Railway St. SE, Medicine Hat T1A 2V6. Please call 1-866-526-2214 for further information.