WILLIAMS Richard
Posted: December 22nd, 2014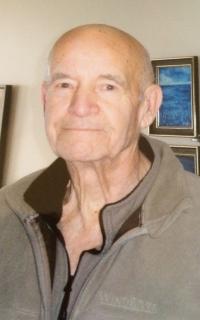 1927 – 2014
Go confidently in the direction of your dreams. Live the life you\'ve imagined.
– Henry David Thoreau
Richard Williams passed away peacefully in his own home at Garden View Lodge in Kimberley, BC on December 11, 2014. Dick was born on August 25, 1927 in Regina, Saskatchewan. He grew up exploring Waskana creek, delivering newspapers to the Legislative Assembly, building all sorts of childhood contraptions in his backyard, bicycling about town, and playing hockey on the neighbourhood rink. He leaves behind his loving wife of almost 63 years Orphee Williams (nee Ashe), 3 daughters Richeal (Ralph) Tweten, Corrine (Rodney) Jerke and Ashelyn (Derek) Redman, son Edwin (Norma) Williams, dearest friend Penny (Colm) Covenden, 14 grandchildren, and 6 great grandchildren. He was predeceased by his father Edwin Williams, his mother Gertrude Williams (nee McKay), and his sister Helen (Bill) Ford. Dick obtained his Bachelor's and Law degree from the University of Saskatchewan. A guiding force in his life was the love of nature: after seeing the Rocky Mountains while surveying as a student he decided that upon graduation he would journey west and live in their shadow. He articled with the late Fred M. Pritchard in Taber and then moved to Lethbridge in 1954 and joined the Firm of Davidson and Davidson. In 1957, the firm took the name of Davidson and Williams. Dick was a dedicated lawyer who was honoured to be of service to others. He also loved his time away from the office, spending weekends and holidays at his cabin in Montana or elsewhere in the Rockies. His partners kidded him about planning for his retirement in the mountains the day he started his practice. Dick was an active member of the community serving as the first chairman of the Lethbridge Community College Foundation and participating in many leadership roles in the Rotary Club. Dick and Orphee were avid hunters and horseback riders. His first year of retirement was devoted to raising two beautiful colts and living full time at their cabin in BC. They remained living there happily for 24 years. He was thrilled to report that he was able to go for a walk every day with one of his beloved dogs or cats tagging along, constantly on the look out for a white tail buck, a cow elk, a good tree to take for firewood, or signs of the hummingbirds returning in the spring. In the past three years Dick and Orphee lived at Garden View Lodge in Kimberly but still drove to their cabin each weekend to be closer to nature. Dick was known for his quick sense of humor and it was rare that he did not have a story or joke to pass along. He never lost his ability to make others smile, even as he courageously orchestrated his final days after three years of battling cancer. His modesty, strength of character, and determination were truly remarkable and inspired many. The family is very appreciative of the staff at Garden View, and at the Cranbrook Oncology (Cancer) Unit, as well as Dr. Lange in Kimberley and Dr. Benke in Lethbridge for their dedication, and thoughtful and passionate care over the past three years. Dick will be remembered for his smile, twinkling eyes and his love of everything in nature. In lieu of flowers the family would appreciate donations to the Cancer Society or a Wildlife charity of your choice. A celebration of his life will take place in the summer among the things that inspired him most – family, mountains, wildlife and all things in nature. Arrangements entrusted to McPherson Funeral Service. Condolences for the family can be offered at: www.mcphersonfh.com.