BLOOD Narcisse
Posted: February 18th, 2015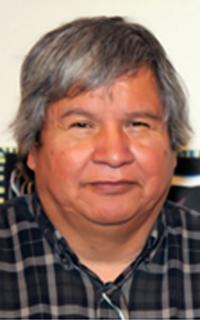 May 13, 1954 — February 10, 2015
Narcisse Blood (Tatsikiistamik), of the Blood Reserve, passed away suddenly on Tuesday February 10, 2015 in Regina, Saskatchewan. In celebration of Narcisse's life, his legacy and memory will live on through his Wife Alvine. Children: Caroline, Michelle (Wes), Charlene (Brad), Myles (Chelsea) and Joey, James(Marie)Mckneely, Troy Twigg, Justin Many Fingers, Craig Blood, Telly Hoof, Sandy(Daryl), A.J.(Tamara), Nancy(Myles) Weasel Fat, Dwight (Camina) Weasel Moccasin, Troy Delaney, Grandchildren; Blaise, Sky, Mackenzie, McKinley, Charaya, Raine, Akale, William, Carter, Kody and Kayson Mckneely. His siblings;Martin (Pam) Heavy Head, Clayton (Natoshia) Blood, Vicky (Jeffery) Bull Shields, Debbie(Harvey) Blood, Robert Blood, Ursula (Leeboy) Blood, Leroy (Amethyst) Little Bear, Roy (Genevieve) Fox, Bob (Charlene) Burns, Ryan (Adrienne) Heavy Head, Lewis (Linda) Little Bear, Casey (Lydia) Scott.His Paternal Grandmother Lucy Blood, Uncles; Wilfred Blood, Charles(Rhonda) Blood, Michael Blood, Dewey (Carolyn) Blood, Blaine, Joanne(Eric) Lemieux, Manuel Blood, Cynthia (Hiram) Blood, Yolanda (Robert) Eagle Tailfeathers. His Aunt Sally(Listener), and Great-Aunt Louise English.His In-Laws Delores(Peter) Weasel Moccasin, Brent (Mavis) Singer, Ivan (Kailey) Singer, Carolyn (Casey) Weasel Fat, Ray (Beverly) Mountain Horse and Marvin Mountain Horse. Narcisse was predeceased by; his parents Mary and Narcisse Blood Sr., his brothers Marvin Blood, Johnny Blood. His Mother In-law Shirley Mountain Horse, and brother in-law Michael Mountain Horse.His niece Nicole Red Crow.His paternal grandmother Rosie Pace, Grandfather Alfred Blood, his maternal grandparents Joe (Henry) and Clara Heavy Head and many aunts and uncles. Narcisse's formal education began at the age of 6 years old at the St. Mary's Residential School until the age of 17. He received his post secondary education at the University of Lethbridge and as a visiting student at the University of Alberta. His impressive work history began right after high school as Supervisor at St. Mary's Residential School. Liaison Officer … … Then his work began at the National level with the Assembly of First Nations, the World Council of Indigenous People with Marie Small Face-Marule and George Manual. Later choosing to work closer to home, Narcisse became the Treaty 7 Vice-President of the Indian Association of Alberta. He served as a member on the Blood Tribe Chief and Council for 10 and one half years. He was the former director of Kainai Studies at the Red Crow Community College where he is recognized as an Eminent Scholar and where he was presently employed as a researcher and instructor. His 19 years of research experience include traditional knowledge, cultural heritage and museums. With his interest in museums Narcisse had been a big influence in the development of the current Repatriation Act in the province of Alberta and this also resulted in his involvement from 1990 — 2014 with repatriation of many of the Blood Tribes ceremonial artifacts and ceremonial bundles from museums in Canada and the United States. He was also very involved in museum visits to the United Kingdom like the British Museum, London, Pitt Rivers in Oxford, Museum of Archaeology and Anthropology in Cambridge, and the Royal Albert Memorial Museum in Exeter, England to do an inventory of the Blackfoot collection that are in storage in these museums. In visiting these places he was also a guest Lecturer at Pitt Rivers, University of Aberdeen in Scotland and Exeter, England. Over the past twenty-five years Narcisse, has earned the reputation of being a respected leader, a distinguished scholar, an innovative researcher, an experienced educator, a commanding orator, a humorous storyteller, and an award winning documentary filmographer. As an accomplished filmographer he makes films related to the Blackfoot culture and history, and the community's relations with museums. As a traditional elder engaged in Indigenous research he has had numerous academic publications and director of many films and directed the award winning film "Round Up". Not only was Narcisse a Blackfoot scholar, philosopher, teacher, activist, ceremonialist, family man, and friend he was a very outstanding athlete. He played football, golf, and basketball, which took him to places like Ireland and numerous other places. Because of his outstanding athletic abilities he won the prestigious Tom Longboat Award which is awarded to young outstanding female and male provincial athletes — an award he was very humble about and not very many people knew he had won the award. Narcisse was very involved in the traditional societies of his community. He was a member of the Iitskinaiksi (Sacred Horn Society) with his wife and his longtime friend Giles. Then he was the owner of a thunder pipe bundle (Ninaimskaiksi) with his wife, his son Myles, and daughter Michelle. He was really involved in the traditional Blackfoot ways, which is a testament to why his children and grandchildren have already taken on a significant responsibility to carry the Blackfoot culture forward to the next generation. Narcisse and his wife presented their children and grandchildren to the world the same way he presented the culture, his knowledge, resources, compassion with such pride and joy, love and respect. Narcisse led a very extraordinary full life to share all that he has done for his community and the global world. Narcisse comes from a very large extended family and relatives, which include the families of the Beebes, Bruised Heads, Crow Chiefs, Day Chiefs, Eagle Childs, Eagle Bears, English, Foxes, Heavy Heads, Heavy Runners, Heavy Shields, Kicking Woman, Knifes, Little Bears, Many Fingers, Merchants, Mills, Pace, and Yellow Owls. Because of a very large extended family, we apologize if any families were missed as this was not intentional. A Wake Service will be held at the Kainai High School, Blood Reserve on Tuesday, Feb. 17th from 7:00 to 11:00 p.m. The Funeral Service will be held at the Kainai High School, Blood Reserve on Wednesday, Feb.18th at 11:00 a.m. Interment in the Family Plot Farm Four Cemetery, Blood Reserve. Email condolences to: legacycardston@gmail.com.