THACKRAY Myrtle
Posted: March 17th, 2015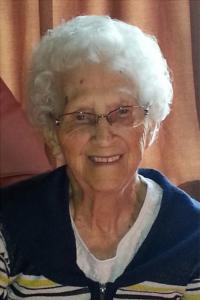 1929 – 2015
Myrtle Emily Thackray, beloved wife of the late John Thackray, passed away peacefully on Tuesday March 3, 2015 at the age of 85. Myrtle was born on April 6, 1929 in Calgary AB, the youngest of 6 children, to Hansena and Edward Hanson. She met John Thackray, the love of her life, and they were married on September 1, 1956. They enjoyed travelling all over the world during their years together. She was an incredible hostess who loved to have friends and family around to spoil with her gourmet cooking and amazing desserts. She was so proud of and loved all of her family and was always there following their endeavours at the ice arena, curling rink, school concerts and drumming performances. She had a most special place in her life for her beloved son Steven. After John passed away in 1986 she made it her passion to give Steven a life full of adventure and fun. From baseball and football games, camping in the mountains and bus trips to Nevada, she never let anything stop her. She was Steve's biggest fan and supported all of his Special Olympic activities. She showed us all how to be so strong and independent by her fierce and feisty attitude. Myrtle had a love for playing cards, from 4 tables of bridge with the ladies to Crazy 8's with the grandkids, she would always be up for a game. Of her many accomplishments she was most proud of designing apartment buildings and houses in her early years. She had a knack for "building and fixing" things. Myrtle will be deeply missed by her children, Donna Harding of Victoria, BC, Steven Thackray of Lethbridge, and Sandra (Kevin) Jockims of Lethbridge. She will also be forever remembered by her loving grandchildren, Michelle (Derek) Allen of Victoria, BC, Kim Harding of Victoria, BC, Kayli Jockims of Vancouver, BC, and Kris Jockims of Fernie, BC as well as numerous nieces, nephews and their families. Besides her loving husband, Myrtle was predeceased by her parents and siblings Marjorie Hanson, Marion (Archie) Morck, Lydia (Norman) Foster, Charles Hanson and Edward (Ruth) Hanson. Special thanks to all the people who cared so lovingly for Mom these last few years, especially Cindy, Sherry, Heather, and Donna at St Therese Villa 1 West Dementia. Your love and friendship was so very appreciated by her and all of us. At Mom's request there will be a private family celebration of her life. Flowers are gratefully declined. Those who wish, memorial donations may be made to Lethbridge Special Olympics #234, 20 — 13 Street North, Lethbridge, AB T1H 2R3, Alzheimer\'s Society Lethbridge Chapter #402, 740 — 4 Ave South, Lethbridge, AB T1J 0N9, or a charity of one's choice. Do not stand at my grave and weep
I am not there; I do not sleep.
I am a thousand winds that blow,
I am the diamond glints on snow,
I am the sun on ripened grain,
I am the gentle autumn rain.
When you awaken in the morning\'s hush
I am the swift uplifting rush
Of quiet birds in circled flight.
I am the soft stars that shine at night.
Do not stand at my grave and cry,
I am not there; I did not die.
Visit www.mbfunerals.com to send a private condolence.