1927 ~ SHABATKA ~ 2012
Posted: September 24th, 2012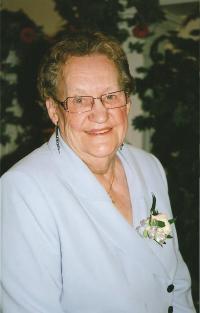 Doris Margaret Shabatka (Mellor) passed away September 21, 2012 at the age of 85 years at the Medicine Hat Regional Hospital.
Doris was born January, 1927 in Gull Lake, Saskatchewan and was the daughter of Stephen and Connie Mellor. She attended Stone Pile School and high school in Shaunavon. She and her siblings often rode a horse to get to school.
Doris's mother was the midwife for the community. Encouraged by her mother's example, Doris entered the Medicine Hat School of Nursing and graduated in 1947 as a Registered Nurse. She enjoyed her training and often told stories of not only the hard work but the fun she had with the other nursing students. She had a long and distinguished career in nursing (40 years) and was considered to be a very compassionate and dedicated nurse. Her passion for nursing led four of her daughters to go into the nursing profession as well. Her nursing journey included being a Staff Nurse, Head Nurse, Evening Supervisor, and Manager of the Emergency and Endoscopy Department. She was also a proud member of the Medicine Hat Nursing Alumni and always enjoyed their annual reunions.
Doris met Leo Shabatka and they were married December, 1947. Together they had 5 daughters. They bought a small home on 10th Street S.W., where she lived for over 50 years. Leo died in February, 1968 leaving Doris to continue working full time and still find time to raise her 5 daughters. Doris was dedicated to her family, cooking meals, sewing dresses and always giving ongoing love and support.
Following retirement, she was very busy. She loved being with and helping people. She was an active member of Unity Lutheran Church where she volunteered to help make meals at the food bank soup kitchen and sew quilts for Lutheran World Relief. Social events were always blessed with her making "the best cinnamon buns ever". For years, she bowled three days a week and was also a member of the Hillbilly Band. She loved entertaining and traveling with them. During her last years of her life she moved to Chinook Village and enjoyed the people and the activities.
Doris is survived by Heather (Bob) Hart of Medicine Hat and their 3 children, Jolene (Wade) Watson, Shawna (Brian) Aman and Rob (Heather) Hart; Brenda Shabatka of Victoria BC and her 3 children, Kathryn (Larry Keller) Kaldestad, Michelle (Tim) Loewen and Stephen (Jodi) Kaldestad; Norma (Norman) Smith of Medicine Hat and their 2 children, Kathy (Kevin) Harrigan, and Ken Smith; Donna (Wade) Wittke of Medicine Hat and their 2 children, Alaina Wittke and Adam Wittke; Bonnie (Cal) Niebergall of Medicine Hat and their 2 children, Jill (Mark Peart) Niebergall and Michael (Debbie) Niebergall. She was also very proud of her 17 great grandchildren. She is also survived by her 1 sister, Shirley (Morris) Stevenson of Shaunavon, SK and numerous nieces and nephews. Doris is predeceased by her husband Leo; her siblings, Florence, Frank, Phyllis and Reginald.
Though her smile is gone forever and her hand we cannot touch
We still have so many memories of the one we loved so much.
Her memory is now our keepsake which with we'll never part.
God has her in his keeping we have her in our heart.
Sadly missed but never forgotten.
The Funeral Service will be held in UNITY LUTHERAN CHURCH, 8 Palliser Place NE, Medicine Hat, on Wednesday, September 26, 2012, at 1:00 p.m. with Pastor Sid Nelson officiating. Memorial gifts in Doris's memory may be made to the Medicine Hat Regional Hospital Health Foundation, 666 -5th Street SW, Medicine Hat, AB, T1A 4H6. Condolences may be sent through www.saamis.com or www.gonebutnotforgotten.ca or to condolences@saamis.com subject heading Doris Shabatka. Radio funeral announcement can be heard on Tuesday around 12:35 p.m. on Power 93.7 fm. Funeral arrangements are entrusted to SAAMIS MEMORIAL FUNERAL CHAPEL AND CREMATORIUM, "The Chapel in the Park", locally owned and directed. Should you wish any additional information, please telephone (403)528-2599