RICHARD RAJALA
Posted: February 7th, 2013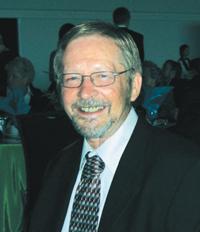 At home, surrounded by family and with his little dog "J" by his side, Richard passed away on Monday, February 4, 2013 after an unrelenting and courageous battle with lymphoma. He leaves to cherish his memory his wife, Carol and his 2 children, Jenny (Dave) and Matthew (Ashley).
Richard grew up in Northern Ontario in a large family. He was proud of his Finnish heritage and strived to embody the valued trait of "Sisu"—courage in the face of adversity. Exploring the woods and lakes around his home he developed a strong affinity for the outdoors. He was a quiet boy nicknamed "Shadow" and during weekly trips to the local library he developed a lifelong love of reading and the pursuit of knowledge.
He became intensely interested in the field of psychology during his high school years. He pursued university degrees in this field at both Waterloo University and Wilfred Laurier University in Ontario. He combined a keen intellect with a deep compassion for others in his work as a psychologist.
Richard had a strong work ethic and was happiest when he was busy.
He was an avid outdoorsman, passionate about fishing and hunting. We have many happy memories of salmon fishing on the west coast with Al, and long conversations around campfires. Always an extremely active man, Richard spent many hours on walks with a long line of well loved canine companions. Richard enjoyed the quiet companionship of his dogs and cats; and in turn they were intensely devoted to him. We know many of his former four legged companions greeted him as he crossed into the peace that passes all understanding.
He took enormous pleasure in gardening and was a voracious reader. He served proudly for several years on the Redcliff Library Board. Throughout his lifetime, visiting the library and browsing the stacks was a favourite activity.
We would like to thank the many caregivers who looked after Richard during his illness. They were always kind, caring, cheerful and helpful. You know who you are. God Bless You!
Richard will be remembered by his family and friends for his gentle spirit and wise counsel. He was greatly loved and will be terribly missed.
Richard's life will be celebrated at a memorial service on Monday, February 11, 2013 at 1:00 p.m. at St. Ambrose Anglican Church, Redcliff, Alberta with Reverend David Carter officiating. Condolescences may be directed to www.cooksouthland.com.
In memory of Richard, donations to the following organizations are gratefully appreciated: Redcliff Public Library, P.O. Box 280, Redcliff, Alta., T0J 2P0 and St. Ambrose Anglican Church Memorial Fund, P.O. Box 403, Redcliff, Alta, T0J 2P0.