STANKO
Posted: February 26th, 2013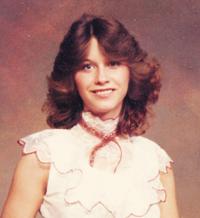 Gayle Marie Stanko ~ 1963 – 2013
Gayle has now begun her journey to another life, as she passed away peacefully in her home in Maple Creek on February 10, 2013.
She is survived by her parents Gordon and Myrtle Ford, sisters Brenda and Donna Ford, husband David Stanko, children Robyn and Ryan Stanko and predeceased by her brother Glenn Ford.
Gayle was born a twin to Donna in Saskatoon, Sask. on September 8, 1963. The family then moved to settle in Maple Creek where the children grew up and attended school. In 1984, Gayle married David in Jamaica. A year later they decided to move to Moose Jaw, Sask., where they began their family. Gayle was employed by the Co-operators during the four years spent in the city. They then decided to relocate their family and insurance business back to Maple Creek so they could be closer to their immediate family.
Many happy years were spent  watching their two children grow, visiting with friends and family and progressing the farm they eventually took over. Gayle changed her career when she had the privilege to take on the reception/administration role for Abbott Realty.
Enjoying the final moments of her life surrounded by friends and loved ones in Maple Creek. Gayle was a kind, big hearted soul, loved by many. Her presence will be greatly missed  but the memories of her are more than one can imagine and we can find strength in these as we cherish them forever. May she rest in peace.
The funeral service was held at the Maple Creek United Church in Maple Creek, Sask. on Fri., Feb. 15, 2013 at 11 a.m. with Rev. Eva Stanley officiating. Larry Pillar was the urn bearer. Eulogy was read by Robyn and Ryan Stanko. Interment took place at the Maple Creek Cemetery. Honorary pallbearers were all those who shared in Gayle's life.
Friends who wish to, may remember Gayle with a gift to the Southwest Healthcare Trust Equipment Fund c/o any Credit Union in Southwest Sask.
To email an expression of sympathy you may visit www.gonebutnotforgotten.ca.
Binkley's Funeral Service, Maple Creek and Leader, in charge of arrangements. 306-662-2292.