1933 ~ KOSOLOFSKI ~ 2013
Posted: April 29th, 2013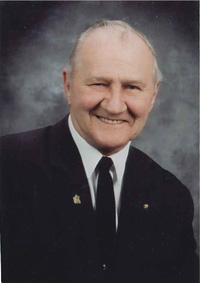 On February 5th, 1933 Wendelin "Windy" entered this world and, on April 25th, 2013, at the age of 80, he peacefully went home. Waiting to greet him were his Father and Mother, John and Helen; his sisters, Barbara, Madalin, Susan and Sister Emily and Sister Francis; his brothers, Peter, Henry, Joseph, George and John. He leaves to miss and love him always his faithful, best friend and wife MaryAnn; daughters, Brenda (Darrell) Hazel, Barb (Mark) Schmaltz; and sons, Bruce (Claire), Bob (Deb), Bernard (Carol) and Boyd (Susan); 13 grandchildren; 10 great grandchildren; and his cherished puppy, Nike. He is also survived by sisters, Mary and Sister Aloysia; brothers, Chris and Greg; and numerous nieces and nephews.
Windy was born on the family farm south of Prelate. He was educated at Cululi school, attended St. Thomas College and returned home to graduate as a member of the first graduating class of Prelate School. Windy began working for the CPR and married his high school sweetheart MaryAnn on April 26th, 1954. Together they raised 6 children. During this period, they owned and operated the "GayWay"–Prelate's coffee shop, poolroom and bowling alley. Windy also served as the Town Administrator for 25 years and operated his own Insurance Agency.
In 1991, Windy and MaryAnn retired to Medicine Hat. Windy's great loves were his family (the 6 Bs), bowling, baseball, gardening and enjoying a beer with friends and family. Windy loved to cook and demonstrated his caring for others by sharing the fruits of his labour. His faith was very important to him and he was a long serving member of the 3rd and 4th degree Knights of Columbus. Windy was an amazing man and made an impression on everyone he met. He was a courageous man to the very end.
To sum up Windy's life in one short column does not do justice…
Those wishing to pay their respects may do so at ST. PATRICK'S ROMAN CATHOLIC CHURCH, 238 – 2nd Avenue NE, on Tuesday, April 30th, 2013 from 9:30 until 10:25 a.m. Vigil Rites (prayers) will be said at SAAMIS MEMORIAL FUNERAL CHAPEL, #1 Dunmore Road SE, on Monday, April 29th, 2013 at 7:00 p.m. The Funeral Mass will be celebrated in ST. PATRICK'S ROMAN CATHOLIC CHURCH on Tuesday, April 30th, 2013 at 10:30 a.m. with Father Long Vu, celebrant. Interment will follow in the family plot at Saamis Prairie View Cemetery. Memorial gifts in Windy's memory may be made to the Palliative Care Unit, c/o Medicine Hat Regional Hospital, 666 – 5th Street SW, Medicine Hat, Alberta, T1A 4H6 or to the Canadian Cancer Society, 102 – 1865 Dunmore Road SE, Medicine Hat, Alberta, T1A 1Z8. Condolences may be sent through www.saamis.com or www.gonebutnotforgotten.ca or to condolences@saamis.com subject heading Windy Kosolofski. Radio funeral announcement can be heard on Monday around 12:35 p.m. on 93.7 Praise FM. Funeral arrangements are entrusted to SAAMIS MEMORIAL FUNERAL CHAPEL AND CREMATORIUM, "The Chapel in the Park", locally owned and directed. Should you wish any additional information, please telephone 528-2599.