MARGARET VALERIA SMITH
Posted: May 9th, 2013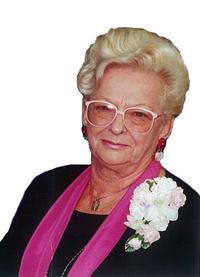 (nee Senft)
Margaret passed away on December 17, 2012 in Calgary at the age of 89. She is now reunited with her beloved Lord. Margaret was born in Lanigan Saskatchewan on August 4, 1923. She was predeceased by her parents Rev. George and Alma Senft, sister Lorraine Propp, brother Raymond Senft, & husband Fred Smith. Margaret is survived by her daughter Wendie Spitzer (Larry) and grandchildren Shayleen Ottas (Glenn) of Lloydminster and Tate Spitzer of Calgary Alberta, great grandchildren Tylyn & Ryan Spitzer, Teegan & Mckenna Ottas. Also surviving are Margaret's extended family Penny (Lou) Hogan, their 4 children and 8 grandchildren, as well as Randy (Riva) Smith and their two children. Margaret was known by her friends, nieces & nephews as Muggy and to her many grandchildren as Ging Ging. Margaret will be forever remembered for her outgoing and friendly nature as well as her pink glasses. A memorial Service will be held on May 11, 2013 at 1:00 PM at St Peter's Lutheran Church, 758 8thStreet S.E. A lunch will be served after interment at Hillside Cemetery.
If tears could build a stairway
And memories a lane
I'd walk right up to heaven
And bring you home again.