TONY LOGAN
Posted: May 22nd, 2013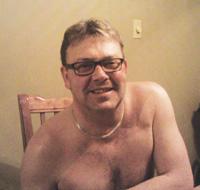 Tony Edward Logan of Medicine Hat passed away May 12, 2013 at the Peter Lougheed Hospital at the age of 50.
Tony will be sadly missed by his soulmate Loretta, his son and hero Scott, sisters Shari (Ken), Kris (Kevin) and brother Kory (Arlene) and cherished Aunt Dorothy. His nieces and nephews, Joey, Richelle, Rory, Ryan, Kelly, Melissa, Tyler and Tyson.
Tony was born and raised in Gull Lake Saskatchewan. In later years Tony moved to Regina for his second education in auto body. Tony worked hard throughout the years including a personal auto body shop, National Oilwell, Local Advantage and CE Franklin. At the time of his passing he was presently employed with Emission Solutions.
Tony was one of a kind, who profoundly embraced the nobility to be great. He was a perfectionist in everything he did. Tony was the life of the party. He always had a smile and approached life as something to be enjoyed and was always there for a helping hand.
Tony loved camping, fishing, boating, BBQ's and his beloved Riders. Anyone that knew Tony, knew that he was the Riders #1 fan and if he could bleed green, he would have. His family and friends were an important part of his life. One of Tonys good friends Perry pointed out at his funeral that there were 3 things you could rest assure Tony would never be without……..beer, cigarettes and rock and roll. So true.
A celebration of Tonys life will held at the Moose Lodge on Saturday May 25th. There will be a toonie bar and lunch from 4-7. Everyone is welcome to come and have a drink with Tony.