DAVID NEWTON
Posted: September 16th, 2013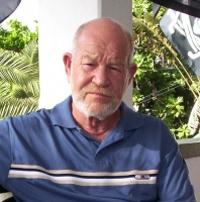 1945-2013
Gone Fishing for good.
With sadness we announce the passing of David Robert Newton, on August 22, 2013 in Belize, Central America, after a brief illness.
Born in England in 1945, he emigrated with his family to Canada at age 10, growing up and attending school in Medicine Hat, Alberta. At age 18 he joined the Canadian army and upon his discharge and return to Canada he worked for several companies before fulfilling his desire for a higher education. He attended the University of Lethbridge and later, the Universities of Saskatoon and Calgary, achieving multiple degrees in education, pediatric studies and medical genetics. An educator to the end, 'Mr. Newton' will be fondly remembered as a favorite teacher in several communities; including Nanton Alberta, Massett and Prince Rupert in British Columbia, Ladyville Belize, and in Red Deer Alberta.
Equal to his passion for teaching was his passion for fishing. Summers were spent on the west coast of Vancouver Island, where he started a fishing charter business, and built the Orca Fishing Lodge near Tofino. He relocated his business to the Central American country of Belize where he operated for 10 years before retiring. In his later years, David was a sought after lecturer and educator at the Belize Medical College and consulted at many private and public schools throughout the country.
He leaves behind wonderful memories for both his Canadian and Belizian families. In Belize he is survived by his second love and long-term partner Patricia Forman of Ladyville, Belize, step-daughter Helen Forman (Tracy) of New York and dozens of brothers- and sisters-in law, nieces and nephews. Left with fond memories in Canada are his children, Sarah Newton of Vancouver, Jeremiah Newton, granddaughter Ezra and David's first wife Jeanette Newton, all of Red Deer. He is also survived by his mother Mary Newton in Medicine Hat, siblings William Newton, Louise Vernal (Norm), and Maureen Newton also in Medicine Hat, Michael Newton (Linda) in Naramata BC, and numerous nieces, nephews, friends and colleagues. He was predeceased by his father Fred Newton.
There will be a celebration of David's full and fascinating life at Inspire Café on Sunday September 22 from 4-6pm.